Cherishing every moment in time
Louie Schwartzberg
Cinematographer
Louie Schwartzberg, Cinematographer
During an extended stay in a remote corner of the California coast, award-winning cinematographer Louie Schwartzberg gains a new perspective on the universe. While pioneering techniques for capturing time-lapse and high-speed photography, Louie learns that the human conception of time is very narrow. It's only by opening himself to the expansiveness of time that he's able to gain a new appreciation for the here and now.
Transcript:
Cherishing every moment in time
LOUIE SCHWARTZBERG: I look at the sky to figure out the weather, to learn new patterns. I walk in the garden just to stare at the flowers. I'm observing everywhere I'm looking. And when I'm truly observing, without any preconceived notions, time slows down. I feel totally here. The natural flow of circadian rhythms makes me think about time in a whole new way.
ROHAN GUNATILLAKE: As a pioneer of time-lapse photography, Louie Schwartzberg has had the unique privilege of seeing titanic wonders of nature flash by in an instant, completely altering his understanding of time and energy. In this week's episode, Louie shares how his relationship with time first changed during an expansive trip to rural Northern California, and how it taught him to bring a new sense of gratitude and appreciation to every moment.
In this series, we combine immersive first-person stories, breathtaking music, and mindfulness prompts so that we may see our lives reflected back to us in other people's stories. And that can lead to improvements in our own inner lives.
From WaitWhat, this is Meditative Story. I'm Rohan, and I'll be your guide.
The body relaxed. The body breathing. Your senses open, your mind open, meeting the world.
SCHWARTZBERG: I slip into the built-in breakfast nook by the kitchen sink. I pull the table in close and scan the homework spread out before me. Over my shoulder, a small radio plays the Dodger game. The sound is low, but I can hear that warm drone of the announcer, Vin Scully. "Here comes the pitch … ball one." I'm 10 years old, at home, in San Diego. 
My mom scurries around the kitchen in her apron. She's short, and stocky, and full of koyech, which in Yiddish means "energy." She hums as she opens the oven door. The room fills with the smell of caramelized sugar. Sweet and nutty. Everything mom bakes is filled with love. But this recipe is my favorite: Zucchini cake with chocolate chips. 
"In our bakery back in Poland," she says, sliding the loaf pan onto a cooling rack. "My brother did the baking. I helped with the customers." 
I imagine this bakery. I can see the old men and women buying loaves of challah. My grandfather playing the clarinet. My mother's life in Poland before the war. I love hearing these stories. Feeling this connection to a family that I never knew.
At the sink, Mom runs the hot water and rolls up her sleeves. My eyes, like always, are drawn to a series of numbers tattooed crudely on her forearm. 
My parents are Holocaust survivors. They don't talk about what happened much. They don't tell me horror stories. They tell me stories of courage and ingenuity. About how they survived. The experience completely reshaped their worldview. Sitting in the kitchen, I see how my mom is always on the move. Always boogieing. Mom is all energy. She's engaged. Exuding love into every act. You never hear her say, "I'm tired" or "I need to sit down." For her, every moment is about serving others. She doesn't squander a single second. 
This bright yellow kitchen, full of busy work and endless chores, is absolute heaven on earth to her. She has a roof over her head, food in the refrigerator. Two healthy kids. She's full of gratitude. 
Even at 10 years old, I feel her influencing me. I don't want to waste a single second. I want to fill every day, every moment, with energy. Time is precious.
The light fades up in the theater, filled with about 300 students and professors from the Theater Arts Department. I can feel the students kind of shifting restlessly in their seats. One professor stands up at the back of the room. He clears his throat, and he says, "The problem, Louie, is that you're intoxicated with your own imagery."
He gestures at the screen where my film just finished playing, and then he says, "There's no story here". 
It's 1970. I'm at the beginning of my junior year at UCLA. I'm screening a 30-minute film project that's meant to secure my entry into the Theater Arts Department. And I'm in shock.
I can't understand my professor's reaction. Sure, my film is different. It's nothing like the formulaic dramas and stock conflict stories my classmates are making. But that's what I love about it. It's experimental. It's called Journey to Freedom.
It begins with kids playing on an asphalt playground in the city. In civilization. It's structured conformity. They quickly start to shout and fight. I see this everyday at my part time job as a playground director at the UCLA elementary school. Then I cut to Topanga Canyon, and we see the forests, the hills, the gullies. And we see these same kids are now playing in nature. They run through shafts of light coming through the trees. They're not fighting anymore. There are no rules. There are no winners and losers. Their time is unstructured. The film ends with a flurry of sunsets, a blast of inspiration and possibility for the future.
But after my professor's reaction, my own future looks kind of bleak. If I don't pass project one, I can't continue in the film department. I can't help but think, "These old farts don't know anything." My film is a celebration of life, ending with a journey through time. A new kind of story. It feels like my first glimpse of heaven on earth.
Outside, the campus grounds are filled with students protesting an unjust war. LA is exploding right now. What you hear is, "Burn baby burn". There's a spirit of revolution. Sexual revolution. Drug revolution. I want to challenge everything. Life shouldn't be formulaic. Conformist. Rigid. Repetitive. Films shouldn't be either. We need a new vision.
I'm drawn to experimental photography. I love playing with multiple exposures. I re-expose the same roll of film 7 or 8 times — one week shooting in a desert, the next week shooting the ocean, layering image on top of image, all inside the camera, seeing what unfolds from unconscious creativity. 
That burst of sunsets at the end of my film takes me months to put together. I go out to Venice Beach every day to capture one still photograph, regardless of the weather. Cloudy days, sunny days, spectacular days, and gray days. One right after the other. I rephotograph the slide film onto movie film so that each sunset goes by in 1/24th of a second. Four months of sunsets compressed into a single minute of visual ecstasy. Seeing all that time energy compressed, it does something to me. I want more of it. And my friends love it.
But it feels like the establishment is not ready for it.
I still have my parents' work ethic and my mom's energy. I want to use every moment. But there's something about this rigid, ordered approach to how I'm told to spend my time. It feels totally wrong. Life in the city, with work, school, film shoots, traffic — so much traffic. It wears on me.
I think about those kids playing in the woods. No concern for the rules. No concern for time. Just totally happy and free.
GUNATILLAKE: How do you relate to this tension? Having to spend your time according to other people's rules versus following your own. Where in your life do you find moments where you feel the most free? 
SCHWARTZBERG: I'm 12 feet deep in the earth, surrounded by black mud. I have no idea what time it is. And, to be honest, I have no idea what I'm doing. I look up at the small circle of sky, and I see the face of my friend Steve staring down at me. He lowers a little white bucket on a rope. I reach up to grab it.
It's 1974 and I'm in a little town called Elk on the coast of Northern California. It's a few hours north of San Francisco, nestled between the redwood forests and the ocean. The whole town has a population of about 200 people, including my friend Steve. He recently bought a patch of land up here and he invited me to come stay for about a month. All across the US, college kids are coming out to the country in search of a simpler life in search of greater purpose. We yearn to escape the structures of society. We're powerless to change. But we're actually really clueless about how to live off the land. 
One thing we learn is: If you want to build a house, and a garden to grow food, you have to have water, which means you have to have a well. And that's why I'm down in a hole with a bucket.
I fill that bucket with dark wet mud and then Steve starts to pull it back up. As I watch it wobble on the line as it rises, I think about that crappy wire handle breaking and all that weight falling and hitting me on the head. I'd be dead. This is crazy.
But this is nature. And it's exciting, because we're learning. Everything we need, we make. I chop my own wood. Learn how to use a chainsaw. Plant a food garden. We're in a laboratory that's outside. And we experiment. 
When Steve and I are done digging for the day, I walk down to the post office, because I have film I need to send off to be developed in San Francisco. 
At the end of our driveway, I turn the corner into the town of Elk. The cool breeze whips through the tall yellow grass on either side of the road. This land used to be sheep ranches after it was logged. It's so open. I can hear waves crashing in the distance. Seagulls squawking. And up on the hill behind me, towering redwoods swaying in the wind. I stop to inspect someone's garden patch, just to compare their lettuce crop to mine. I walk past the one bar, and the cute little grocery store, the corner gas station and hardware store. Closer to the ocean, I see the church and that little thrift store run by the old ladies of the historical society. 
I breathe in that salty air and I think about what I want to do with the rest of my day. The answer is: Whatever I want. I never know what time it is anymore, and it doesn't matter. Hours pass differently in Elk. You could say they're slower. But actually my days feel more immersive, more full. And that feeds my soul. 
I never had unstructured time like this before. No appointments. No weekends or weekdays. Just the seduction of nature's wonders. I look at the sky to figure out the weather, to learn new patterns. I walk in the garden just to stare at the flowers. I'm observing everywhere I'm looking. And when I'm truly observing, without any preconceived notions, time slows down. I feel totally here. The natural flow of circadian rhythms makes me think about time in a whole new way. Each moment in nature is so spacious, but that doesn't mean it's empty. It's full of abundance, as long as you're open to it.
I hike up the hill carrying my tripod, my camera, and a case full of motorcycle batteries to power it. The air is cool and moist and it fills my lungs as I climb. It smells rich and earthy. There's like a billion spores and pollen in the air, all around me waiting to regenerate life. I get to a spot about two miles up the ridge from town. I'm tired, I'm breathing hard. I set down the tripod and I look out over an expanse of fog laying on top of the Pacific Ocean, as far as the eye can see. It looks like cotton candy. And it seems to go on forever. You can't see the vast ocean below. Just miles and miles of dense, white puffy cotton balls. I never get tired of this view. 
I'm still in Elk, two years later, after I first arrived, thinking I would stay for a month. But I've found plenty of ways to fill my time, including what I'm doing today.
I've got this old 1930's 35mm Mitchell movie camera. The tripod head is from Charlie Chaplin's day. And I modified the body to use still camera lenses, which I could afford. A buddy of mine, who makes electric guitars for the Grateful Dead, he built a DC motor that I could power with these motorcycle batteries. The camera weighs a lot — 50 pounds with film and lens, another 40 pounds for the old tripod. But with it, I can film animation outdoors, one frame at a time. It's called time lapse, and it had never been done before.  
I set up to take one frame of film automatically, once every 20 seconds. Normally, film costs like a hundred dollars a minute.. I don't have much money, but I am rich in time. And I'm filled with a sense of wonder.
Up on that hill, I observe the speed and direction of the fog. I look where the sun is and I make my time lapse calculations to select the right interval. Then I compose the shot. I envision the lighting, not now, but 3 to 4 hours from now, and I set the exposure accordingly. Doing this forces me to be present, so that I can calculate what will happen in the future. It takes a lot of time, energy, and perseverance. 5 hours to get 5 seconds of film. 
A few days later, I run this film through the projector in my darkened studio. My jaw drops. It is a god's eye vision. 
There's this giant rock out in the cove, almost like a small mountain. The fog rolls in, it slowly hits the back of the rock, and then it rolls over and around it. In time lapse, it looks exactly like waves coming in off the ocean and crashing on the rock. It's identical. And why not! It's H2O. So whether it's liquid or vapor, it's governed by the same laws of physics. The same laws that govern the water in my body. Watching these images, I realize that everything is connected. 
Time lapse is a window into unveiling the great mysteries, allowing me to see the fog moving like no human has ever seen before. There's an alchemy to it — a reflection of the Universal energy that's inside of all of us. I feel small and humble in a grand Universe.
My time lapse cameras are time machines. I can film clouds, magic hour sunsets, flowers opening and closing, mushrooms growing out of the earth. I speed things up and slow things down to see what's invisible to the naked eye. The cadence of hummingbird wings. A bumblebee vibrating pollen out of a tomato flower. The secrets I can reveal with slow motion cinematography. Nature is beautiful. That's why we fall in love with it.
Making films like this in Elk helps me understand that what we see as normal time isn't real. Human perception is so narrow. Limiting. Every plant and every creature has its own metabolic rate, and therefore, its own perception of time. I want to capture that. I want to share it. I want to break people out of their human-centric thinking. 
I adopt a radically new perspective. The present moment is all there is. I savor every second as precious and so full of life and beauty. 
I realize, in her way, this is what my mom did. She was so busy. She never took a moment to rest. But she was engaged. She came to every moment with such gratitude, that it felt like the whole world would stop just for a conversation in the kitchen, while she made dinner. When we let go of time — our worries about the past and the future — we gain a new appreciation for what's right here and now. 
GUNATILLAKE: What is right here for you? Can you let go of time, and let go of worries about the past and future, to be fully present? Or is your mind just in another timezone?
SCHWARTZBERG: "Your imagery is beautiful, Louie. My god, it's amazing! But you can't tell a story without conflict."
I hold the phone up to my ear, close my eyes, and I sigh. I've heard this argument so many times. Today, it's coming from a studio executive, who I thought wanted to work with me. But, like a lot of people in the film industry, he doesn't know what to do with my time lapse imagery. 
He rambles on, and my attention drifts. I look around the studio..my cameras, my lighting setups. My tripod is folded up in the corner. Out the window, I can hear the sound of muffled traffic. I'm in Los Angeles again, where I live and work. It's been several years since Elk.
Living in the country, I learned a lot. Nature is a resource. Redwoods are a resource. But people are a great resource, too. It's so much easier to make films with all these people around me — editors and sound designers. The creative energy of a community is an amazing thing to experience. But as usual, like today, a lot of entertainment executives can only see the world through a rigid, narrow lens. Only making films that are formulaic, and never experimental.
When the phone call ends, I slip out the studio door, down the bland, carpeted hallway, and through the door to the stairwell. It's my escape. I let out a long slow breath, and I hike up the stairs — just like I did on that hill in Elk, with the camera and the tripod on my shoulder.
On the roof, I'm surrounded on all sides by giant air conditioning units and satellite dishes. The chaos continues below me. Traffic heading north and south on the freeways. The sound of garbage trucks, honking horns, and leaf blowers. This is where I come when things feel too overwhelming. When I feel like I'm being pulled back into the rat race of conformity and structure and forced conflict. That's when I need to take a step outside and look up.
I stand and I watch the clouds for a minute. They're barely moving. But I can envision them moving really fast. What direction are they moving? What's the angle of the sun? I think about everything in terms of how to frame the ultimate shot. Looking at the clouds like this makes me aware that I'm standing on the earth. I'm an animal on the crust of a planet that's rotating, and I'm looking up at the universe. I drop into this moment and I really feel it.
When I look up, all that noise falls away. 
I'm still on my unstructured, timeless path that began in Elk. The path of identifying whatever connects with my soul. Bending time to see the universal rhythms and patterns of energy. The beauty that's all around us, wanting us to fall in love with it.
This new awareness of time and space doesn't mean that I stop being busy. If anything, I feel more strongly than ever what my mother knew: every moment is precious. And I don't want to squander a single second. I've kept the cameras running nonstop in my studio, 24 hours a day, seven days a week, nonstop. The films I make try to convey a universal love and harmony that I connected with so viscerally in Elk. 
But you don't have to view a time-lapse film to appreciate the beauty around you. You don't. And you don't have to upend your life and move to the country to connect with something bigger. And definitely save yourself the hassle of digging a well by hand. 
We can all discover rhythms and patterns just by looking all around us. Noticing clouds moving on a lazy afternoon. Nature is the best teacher that there is. It can give us a new perspective on time. Savoring every moment that we have. Engendering gratitude for this incredible gift of life.
Rohan's closing meditation
GUNATILLAKE: Thank you Louie.
I loved so much of Louie's story. The idea of reframing our relationship to time is one that really speaks to me. So it's a natural theme for us to explore in a meditation together. Let's start with the idea of a time lapse photo.
Louie described so wonderfully his early pioneering work in this technique. Inspired by him, let's do a time lapse meditation. In time lapse photography, Louie took an image every twenty seconds and then animated them all up together into a film. What we're going to do is similar, but different. Keeping the body relaxed, every few seconds I will say the word "Snap." When I do, the invitation is to take a snapshot of your mind, noticing what's happening in your awareness and recording it with a name. For example if when I say Snap, what is most obvious in your awareness is a feeling of calm, just snap it as Calm. If there is some thinking, just snap it as Thinking. Building up a series of moments.
So again, relax the body and relax the mind and when I say Snap, take a Snapshot of your mind, with as much focus and resolution as you can.
Snap.
Snap.
Snap.
Noticing if you can, how your experience moves and changes.
Snap.
Snap.
Snap.
How does it feel to bring awareness to each of these moments?
We'll close with another of the main threads I felt woven through Louie's story…that time has layers, and while we may feel like we exist in one — sometimes even feel trapped in one — there are other wheels of time with different speeds and sizes to our own. Seeing that, appreciating that, can bring great relief and insight, and as Louie mentioned, great energy.
So let's play with that idea.
There are many ways to measure time when it comes to our human lives. But the one I like, from a meditation perspective, is the breath.
So let's become aware of our breath now, be that in the belly or in the chest. Remember if you like, you can put a hand on your belly to really connect with the sensation of the breath. 
Feeling the in breath. Feeling the out breath.
Aware of these breaths, just a few of the hundreds of millions of breaths we'll take in our life. 
Using our breath to sense into the timescale of our life.
As I record this now, out my window above Glasgow, there are many clouds, not unusual.
And like those described by Louie, I know the clouds here are in an entirely different timezone. They seem slow to me, static even. But in reality, they are alive, dynamic.
Clouds. Mountains. Woodland. Glaciers. Bring to mind the one that most calls to you and sense into, if you can, its way of understanding time. In a different plane to us with our day to day worries: what is time like for a mountain? What is it for the water in a cloud?
Thank you Louie, that really was a lovely story.
And of course, thank you. 
We'd love to hear your personal reflections from Louie's episode. How did you relate to his story? You can find us on all your social media platforms through our handle @MeditativeStory,  or you can email us at: [email protected].
About the Storyteller and Host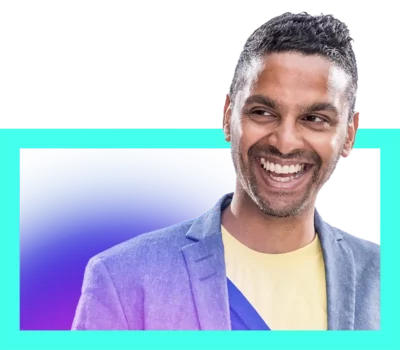 Rohan Gunatillake