Give yourself permission to believe
2x Emmy Award-winning TV host, journalist, and author Tamron Hall has hit milestones in her life that a younger version of herself would never have believed were possible. Part of the secret to her success is her willingness to try, even when she doesn't know how things will work out. This is a lesson she learns from her grandfather, and from her mom, whose legacies teach her that there's beauty in trying.
Transcript:
Give yourself permission to believe
TAMRON HALL: I'm not sure what awaits me in Philadelphia. Just like my mom didn't know what waited for her on her own adventure. But we're giving ourselves permission to believe it's something worth the risk. We both feel strong enough to try. And there's beauty in trying.
ROHAN GUNATILLAKE: Tamron Hall is a journalist who's won Emmys for her work as a broadcaster and television host. Her career success is possible because of an important lesson she learns at a young age, which she carries with her for the rest of her life, and becomes a lifeline when she makes a crucial decision about her family. That's the story she's sharing on this week's episode. It's all about the idea that building the life we want begins with believing in what's possible.
In this series, we combine immersive first-person stories, breathtaking music, and mindfulness prompts so that we may see our lives reflected back to us in other people's stories. And that can lead to improvements in our own inner lives.
From WaitWhat, this is Meditative Story. I'm Rohan, and I'll be your guide.
The body relaxed. The body breathing. Your senses open, your mind open, meeting the world.
HALL: I slowly open my eyes to see the landscape speeding by. My head rests against the cool glass of the car window. It's the smell that wakes me. That pungent smell of oil. It hits as soon as you cross the city line into Luling, Texas. Sharp, chemical, almost sweet. In my family, we say it's the smell of money.
The car slows as my mom pulls into the parking lot of Chambers Grocery Store. I unbuckle and hop out of the car. It's a four hour drive from where we live in Fort Worth to Luling, where my mom grew up, and where I was born. My legs are a little stiff, but I run straight into that store. I'm 7 years old, and here to visit my grandfather — my Pawpaw — where he works. I can't wait to see him. I sprint past the register and the produce section, swipe a plum and head straight back to the meat department. 
There he is.
Pawpaw has his uniform on: a butcher's apron over a white shirt, a little white hat on his bald head. He has rich, dark skin, and his dentures give him perfect, glistening teeth. He's not a tall man, maybe 5'6, but to me, he's larger than life. 
He gives me a huge smile. Ever since my grandma, whose nickname was Koo-ka, passed away, Pawpaw has lived by himself in what's called a shotgun shack. He's always so glad when Mom and I come visit. He scoops me up in a hug, and when he lets go, he holds my hand so tight. I can feel where the tip of his ring finger was cut off in a meat grinder. My family always jokes that we hope no one ordered ground meat that day. 
Luling is known for its barbecue, and here, Pawpaw is the pitmaster. A respected position. As far as I'm concerned, he owns the place. 
I look down through the glass of the meat refrigerator at the richly colored steaks, chops, ribs, sausages. I'm too small to see over the top, but I can see my Pawpaw's lower half behind the counter. He turns from his cutting board and in his hand I see the dark, crunchy, glistening piece of meat, fresh from the pit. He wraps it in red parchment and hands it to my mom. I can't wait to get home to eat it. 
Pawpaw beams down at me. Being around him is pure joy. When I look at him, I see how present he is. I see his confidence. And, I see his history. 
He's born in 1901. By the time he's in second grade, he's told his father has passed away, and he becomes the head of his family. He's forced to leave school at 8 years old, works as a sharecropper, never learns how to read. But he chooses to believe something greater is possible in life. 
Now, he's a landowner. In this largely segregated rural Texas town, even the white men who come into the barbecue shop show him respect. They call him Mr. Mitchell. 
Pawpaw is an underdog. It doesn't matter what kind of hardship he faces or what the world tells him is possible. He goes out and he gets the life he wants. 
My childhood isn't anywhere as hard as Pawpaw's was, but we also don't come from the most affluent zip code. Opportunities that are open to other people don't seem like real options for us. In school, the teachers say I'm disruptive. Too talkative. I think maybe I'm just a busy body. Still, they place me in a class for kids with learning disabilities. 
I just accept it, but my mom wants me tested for the gifted program. "They can't label us," she says. "They can't hold us back."
It's the first time I'm tested for anything. Am I really gifted? Talented? I'm not sure, but feel the gravity of what's expected of me and I get in. 
My mom's a badass. She stands up for me. Still, I can't help feeling like the rest of the world wants to limit my options. Seeing my Pawpaw happy makes me proud. And it makes me wonder: what's possible for me?
GUNATILLAKE: It makes me wonder who my Pawpaw is? Someone close to us and who shows us what's possible. If someone comes to mind for you, invite them here. Smiling and remembering how their example gives us permission to go for it.
HALL: From behind the register, I watch shoppers and mall employees going about their day. I see a mom struggling to put her baby back in the stroller. A group of raucous teenagers laughing by the Orange Julius. I love watching people. Observing. Who are they? What's their story? What do these people expect from their life, day to day. I love taking it all in, dreaming up the lives they could possibly lead. 
I've been coming to Seminary South Mall since I was a kid. It used to be an aspirational place, but the economic challenges impacting the neighborhood have caused it to fall into disrepair. I'm 17, in high school, and I work here at Sears. My dream for my own life is pretty simple. Earn some money for a cute outfit or to do something fun with my friends. I'm not thinking that much further down the road. I don't put a lot of weight on my expectations for myself. 
Across the store I see the tough skin jeans section. That's the hot zone. It's the late '80s and Sears is famous for these jeans — the ones with the indestructible knees. My section, the children's section, is quieter, with kid's socks, car seats, and all kinds of baby stuff.
Through the glass doors that lead outside, I watch a charter bus pull up in the parking lot. Buses regularly come here from local nursing homes to drop off seniors for the day. But the people exiting this bus don't look old enough for that. 
They start making their way into the store. Many of them wear dark glasses, or have canes, even a guide dog. I realize that they're all blind, or have some sort of vision impairment.
I watch a couple come toward my section. They look to be in their mid-twenties. The young man has a low cut afro. The young woman wears her hair in braids. They're both African American, and they both walk with canes.
They make a cute couple. 
They walk over to the racks of baby clothes and reach out their hands to begin feeling the merchandise. I see them touching, touching, touching. I think, "I should help."
I walk over and ask, "What can I help you with?"
The woman raises her head toward me and smiles. "We're looking to get some onesies, she says, and adds, "I'm pregnant." She places her hand gently on top of her round belly. She sounds excited, so I match her enthusiasm. "That's so great," I say.
I talk them through the different baby clothes on display. I try to offer some guidance. I describe the pattern on the Gerber onesies she's holding.
When I ring them up, they hand me some cash.
Over the next few months, the couple returns to the store, again and again, to pick up different things for their new baby. I get to know them a little better. They share their joy with me — the pure joy of starting a family. 
One afternoon, as I'm helping them checkout, the woman asks me, "Want to touch my belly?" She lifts her shirt slightly, exposing her round stomach. "Sure," I stammer, and cautiously reach out my hand. Her skin is taut and warm to touch. I'm a little embarrassed, but mostly what I feel is excitement. Suddenly, all three of us burst out laughing. We savor the giddiness together. 
Laughing together with this couple, I realize something I had not totally registered before. I had been worried about these two. When I met them, my first thought was, "Oh my gosh, who is going to help you?" They're not much older than me and I still feel like a kid. Plus, they have the added complexity of living with a disability. Through our conversation, I learn their impairment is genetic and will be passed on to their child.
How are they going to navigate this? 
But seeing their smiles today, feeling the warmth of their love, I don't see any doubt or uncertainty. I only see resilience. They're ready for this. And they're so happy. 
I'd been defining them by what I thought were their limitations. But they've given themselves permission to expect more from their life, more than what other people might have told them was possible. Witnessing them, I'm inspired. I start to give myself that permission too. 
I don't know what I want to achieve yet in life. But I'm being shown what it means to believe you can build any life you want, with all of the potential barriers, and all of the joy, that comes with it.
The van's engine putters as we idle at the red light. From the back seat, I can see my mom drumming her fingers on the dashboard of the van. I follow her gaze out the window, out at North Philadelphia. All around us, there are blighted buildings and poverty. She's never seen anything like this before.
This is one of the most economically depressed neighborhoods in the country. Densely populated, with row after row of brick buildings crammed next to each other. There's a lot of homelessness and we've passed at least three boarded up storefronts. It's a place that has been failed by the system. And it's where I'm going to live.
My mom is dropping me off with my dad at Temple University, where I'm about to start as a freshman. The school is 1,528 miles exactly away from home. My mother and I calculated the distance when I first get accepted.
Now, she shifts in the passenger's seat to look at me. Her expression is both fierce and gentle. "You don't have to prove anything to anyone," she says. There's an urgency in her voice. I understand her perspective. She grew up in a small rural town. It's the most human thing. At every crossroads, there's a hope for what's possible, but there's also fear. I know she's just scared for her little girl.
"Let's go home," she says. My response is immediate. 
"I can't," I say. It comes so naturally. I don't even have to think about it. Her eyes are filled with worry, and I wish I could say more to ease her concern. I can't predict my own future. I don't know how I'll fare here. I just know that I have to do this. 
My family worked hard, but the reality is, not many of my relatives had the opportunity, the privilege, to go to college. This school represents so many things to me. So much opportunity. I have to go out and try. 
Looking at my mom, I'm reminded of a story she's told me from her own life. She's a young mother, moving to the big city, Dallas-Fort Worth. Leaving home for the first time. Her dad, my Pawpaw, meets her at the gas station to fill her car before she hits the road. At the gas station, he looks over at her, holding infant me in her arms. He says, "Don't go. You can stay here." And she responds, "I can't. I have to go."
The same words she said to her father, are the words I say now to her.
There are complex and dramatic histories passed on from one generation to the next. But, there are other things that can be passed on, too strengths. My mother's story is like rocket fuel, pushing me into what's next. I'm not sure what awaits me in Philadelphia. Just like my mom didn't know what waited for her on her own adventure. But we're giving ourselves permission to believe it's something worth the risk. We both feel strong enough to try. And there's beauty in trying.
GUNATILLAKE: Instead of leaning back into her comfort zone, Tamron's stance here is very different — striding forward into the new and uncertain with curiosity and faith. How might we be more like Tamron in this moment? It could be a shift in our posture or an intention for the week ahead.
HALL: I sit on the cool tile of the bathroom floor and lean back against the wall. 
I look over at my husband, preparing the syringe. Holding the small bottle of clear liquid gingerly in his hand. I breathe slowly, deeply, and close my eyes for a minute. I prepare myself to go through a process I've now gone through many times before.
I've spent the last 30 years as a broadcast journalist and talk show host. 
I work my way up from being a reporter at local stations to national news networks. I host interview shows, and become a co-anchor on The Today Show. Eventually, I have my own talk show. My love of observing people from my days at Seminary South mall, becomes integral to my job. 
Through my work, I've done countless segments on IVF, covering all the latest and the greatest innovations. I've interviewed people about the process of going through progesterone injections. And now, I'm going through IVF myself. I'm 46 years old.
I read articles and literature and science that all tell me what I am doing is virtually impossible. And I've had medical complications in the past that have made it clear it will be difficult for me to conceive. But, I consult my own doctors anyway. They set me up with the start of the IVF process. I pick up everything I need from a specialty pharmacy. I had no idea there even was such a thing as a specialty pharmacy. 
My husband and I have to plan everything out meticulously. No romantic night of cocktails, letting things play out however they may. These are planned shots. We have to get the timing just right. Once I had to inject myself in the back of an Uber on the way to an event. 
Back in the bathroom, I open my eyes just as my husband finishes preparing the shot. "Ready?" he asks me. I nod. He leans over, finds a spot on my butt, and gives me the shot. Progesterone shots are in an oil that doesn't easily penetrate the skin, so these are difficult shots to take. It hurts. 
With all the hormones, and the physical discomfort, and the emotions, I can't help but start crying. 
Soon, my husband is in tears, too.
Afterward, we are wiped out — mentally and emotionally exhausted. We collapse into bed. We're so tired. We feel delirious. And that turns into laughter. It's crying and laughing, then laughing and crying. It's truly a roller coaster of emotions. We feel all the pain of the process, but the joy and the hope of what it could all mean.
Going through IVF at my age, I feel the need to call on so much of the wisdom I accumulated throughout my life. The lessons I learned from watching my family members make the life they always wanted despite the challenges. Lessons from pushing myself to be strong enough to try. 
I know the barriers that stand between me and having a child. I understand the limitations, the preconceived notions of what's realistic for us. But I'm putting myself through all of this because I believe that something beautiful is possible. I'm giving myself permission to believe that. I can't control how it will all turn out, just like the people I met so long ago at Sears couldn't predict their own future. But I know there's beauty in trying. 
I lay on a raised bed in a hospital gown. The beeping and whirring of nearby machines is constant. I try to take a few deep breaths. 
Through the waves of labor pains, my body feels tense with nervousness.
The doctor comes in with an encouraging smile and says, "Looks like we're having a baby today."
I look at him directly and tell him, "I'm not ready."
The doctor's face is blank. I'm sure he's heard expectant mothers say this same thing many times before. But maybe not from a 48-year-old woman who's gone through multiple rounds of IVF. Someone who made the most deliberate decision of having a baby, saying, "I'm not ready."
When I first get pregnant, I'm superstitious. I don't buy a lot of things for the baby. I wait, and wait, and wait. I'm scheduled for a C-section. I've agreed with the doctor to know the exact date I'll have my baby. But now, I'm in early labor. It's actually happening. In the moment when our wildest dreams are coming true, what do we give ourselves permission to receive from life?
I give myself permission to believe I can do this. 
After 8 hours of labor, I give birth to a healthy son, Moses. When I hold him, the love I feel is immeasurable. When I look into his little face, I think about the family that's come before: my Pawpaw, my mom, who all believed in things beyond what anyone else would have said was possible for them. All of whom made this moment, right here, with my newborn son, possible.
Building the life we want starts with believing in what's possible. Even if we don't know how things will work out, we try. We try to reach our biggest dreams in our careers, our relationships, our families. We try to find peace of mind. It all comes down to giving ourselves permission to believe any of these things are possible for us, and that it's worth trying. 
Rohan's closing meditation
GUNATILLAKE: Thank you Tamron.
The way I see it, Tamron's story has two themes that really stand out to me: faith and beauty. The faith to believe in what is possible and walk into the unknown. And the beauty that arises when someone does just that.
So if you'd care to join me for a short meditation together, loosely inspired by those two themes, then you're most welcome.
A key lesson Tamron takes from her Pawpaw is the power of focusing on what is possible for us. Not dismissing or denying the very real barriers that we face, but not getting tied down by them. When faced with adversity, we often hear the advice to focus on the positive, which can feel trite at the time. But I like to take that idea of focusing on the positive and use it as a mindfulness instruction.
There is an old saying in the mindfulness tradition that our world follows our mind. So, if our mind dwells on that which is difficult, we can find the world to be difficult. It's just conditioning. It's the filter we see things through. What Pawpaw shows us is that when we emphasize what is possible, our mind orients towards that instead and gets less caught up in that which we cannot do, because it is prioritizing what we can do, where we can go.
A simple way to nudge ourselves into doing just that is by practicing what I call "looking for the lovely." 
So let's start by dropping our awareness into the body.
When we do that, our mind can often get called into areas of tension or holding or struggle, because that's what shouts the loudest for our attention.
But instead of being drawn into their siren call, we're going to look for the lovely.
Scanning for any areas or sensations of the body which are calm or pleasant or steady.
However gentle.
However quiet.
When our mind rests with what is possible for us — calm, stability, joy, whatever most matters to you, it becomes familiar with those states and will start to orient to them more and more. 
So that over time, we can shift away from the habit of being caught up in that which holds us back, and instead believe that a different way of being is possible.
The other big theme that I loved from Tamron's story is the beauty — the beauty that comes with someone walking confidently into the unknown.
That theme reminds me of a very different technique, that of the koan in the Zen tradition. A koan is an impossible to answer question or riddle. And the purpose of a koan is not to come up with the right answer, but instead to put the mind into a state of bright not-knowing. A beautiful state where the mind is pregnant with wisdom. 
Like a lot of Zen stuff, it's hard to describe, but we can get a taste of it ourselves. So with our body soft and our smile alive, let's breathe for a little.
And now, into this moment, we'll drop a question, a koan, an unknowable thing.
What is this moment?
What is this moment?
Allowing this seemingly simple koan to invite us into the unknown, brightening the mind, polishing its curiosity.
What is this moment?
And as we finish, enjoying the beauty that you have brought into being, by engaging with this practice.
So, thank you again, Tamron.
And thank you. Go well.
We'd love to hear your personal reflections from Tamron's episode. How did you relate to her story? You can find us on all your social media platforms through our handle @MeditativeStory, or you can email us at: [email protected].
About the Storyteller and Host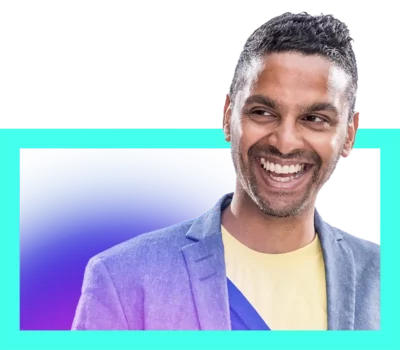 Rohan Gunatillake