Letting our hearts take the lead
It's not surprising that Martha Beck, best-selling author and columnist for O, The Oprah Magazine, grew up as a high achiever. Attending Harvard University for both undergraduate and doctoral degrees, Martha spends years fighting to be the smartest person in the room and contending with serious anxiety. It's only after a revelatory trip to Japan that Martha learns to put her rigid pursuit of intellect aside and find true happiness in the peaceful empty spaces between all things.
Transcript:
Letting our hearts take the lead
MARTHA BECK: An ad comes on for a seasoning called Ajinomoto and I hear my daughter say "Aji-No-Moto." She doesn't get it exactly right, but I see satisfaction on her little face. She mouths the words, says them over and over again, sometimes getting them wrong and not caring. She's completely un-self-conscious completely free. 
ROHAN GUNATILLAKE: Our minds are capable of so much. But frustratingly, they can also be the thing that stands between us and our own happiness. In this week's episode, celebrated author and life coach, Martha Beck, tells the story of how she learned to stop striving to be the smartest person in the room, and during an eye-opening summer in Japan, finally put her intellect aside to open herself up to everything else the world has to offer.
In this series, we combine immersive first-person stories, breathtaking music, and mindfulness prompts so that we may see our lives reflected back to us in other people's stories. And that can lead to improvements in our own inner lives.
From WaitWhat, this is Meditative Story. I'm Rohan, and I'll be your guide.
The body relaxed. The body breathing. Your senses open. Your mind open. Meeting the world.
BECK: I'm sitting cross-legged on the carpet of our living room — a carpet so covered by grime, it's hard to know its original color. My eyes dart from the mint green walls to a bright orange easy chair, to the articles of clothing thrown around in random places, cooking supplies on a side table, there's a bow and arrow in the corner, all kinds of things that belong to me, my younger sister, and our six older siblings. 
What we don't have is a television or radio or cassette player. My father's job as a professor is very prestigious, but it pays barely enough to support us. We are rich in one resource: books. There are thousands of books everywhere. Our family of 10 compensates for the chaos of our home, with our brains. In our house, intelligence is the entire measure of your worth as a human being. Even now, at four years old, I understand that being smart matters more than anything. 
I look across at the two graduate students, who sit facing me on the floor. They're here to measure my IQ, as part of some school project. I don't fully understand, but I know I want to do well. 
My parents have to be out of the room for the duration of the test, so it's just me and the grad students. I wonder, what do they think of all the clutter? Even at this age, I already feel ashamed about anyone else seeing our mess. 
The graduate students ask me a long series of questions that slowly grow more complex. One of them glances at her sheet of paper and asks me the first question that I've had to really stop and think about today. 
"Can a dog manufacture?" she asks. 
I furrow my brow and think hard. I know manufacturing means to make things, and I can think of two things dogs make. They make puppies, they make poop.
"Yes," I say. "I think they do."
Suddenly, from the next room, my father jumps out yelling, "Don't be such a stupid idiot! Manufacture means to make with your hands! Think of the Latin! Manu factum! Made by hand!"
The graduate students' eyes go wide. Unblinking. They're frightened — too scared to remind him that he's not allowed into the room. My father is an intimidating man. He's a professor at Brigham Young University and a known eccentric genius. I once counted the languages I know he speaks, and got up to 16, but he probably knows more. His IQ is off the charts. People in our Mormon community sometimes ask me, "What's it like to grow up in the home of the smartest man in the church?"
Sitting there on the floor, I look up at my dad. He looks a bit like Franklin Roosevelt. I always assumed it was my Dad's face on the dime. Right now, his handsome face is tense, angry. He's typically an absent-minded parent, and I rarely feel I've got his attention. But this he cares about. And I know I've let him down.
Don't be such a stupid idiot, I think to myself. Stupid idiot is a very common phrase in our house.
I feel intense shame rising like a heat in me, and with it, a burning resolve. I will never be caught in a mistake like that again. 
It's not enough to be good. I have to be great. In the world of my family, there isn't much warmth or love. Intellect is what matters most. And if I prove I'm smart, I can avoid all this anger and shame.
I'm 16 years old, and very interested in the mail that arrives through a letterbox next to our front door, and gets stacked on the old oak desk in the living room. There's often mail for me, and as soon as I get home from high school, I dig through the pile, until I find a letter sporting my name. I open it and read: "Dear Martha, Congratulations!" My face flushes. Who doesn't love that word? These are the results of a national writing contest that I took at the request of my English teacher.
The test's instructions told me to write an essay on history, character, and how those two things intersect. I write about Shakespeare's Julius Caesar. Really, how can I go wrong with those two megastars on my side? 
The letter goes on: "You read and write and think extremely well." The contest involves every public high school in the nation, and I've scored in the top five! I open more mail, and discover that I'm being offered scholarships to several universities based on my score in this contest. 
Ah..the sweet taste of validation. 
Throughout my childhood, my home has remained a critical, competitive environment. By comparison, getting approval at school comes easily. I join the debate team, and when I win my first trophy, I feel like a real person at last. Eventually, I go on to win pretty much every tournament I enter. I live in the mindset of winning, winning, winning. It's intensely stressful. I live in the center of a bullseye, full of anxiety. 
The intense shaming and criticism I felt from my father at four years old, never goes away. It's part of my daily life. Anybody who isn't brilliant is a stupid idiot. And no matter how well I do, no matter how many trophies I get, I only feel that I've barely kept the wolf at the door.
But this letter it feels different. I read it again and again. "You read and write and think extremely well." I repeat that until it's burned into my mind. I think, "Maybe, just maybe, I'm not a stupid idiot. 
There's an unfamiliar warmth in my chest. The acceptance I never feel at home is practically pouring in from the outside world. I look around the filthy living room. The piles of books, the chaos, the hopelessness. And I think, there's a place where people could think well of me — where they would see that I am smart. I need to find that place and those people. As long as I can continue to prove that I can write and read and think extremely well, I'll be okay.
GUNATILLAKE: Undoubtedly we've all felt that same warmth in our chest from time to time. Feeling validated by someone else. But it can be fleeting. If you're able, take a moment to imagine those same feelings of validation, but coming from within. Regardless of what you achieve or how you perform, that warmth is there for you.
BECK: I'm 20 years old. The classroom is small and sweaty. The walls are made of cement and there are only bars on the windows — no glass, because it doesn't get very cold here. Little geckos skitter around on the walls, chasing the insects that fly into the ceiling lights. 
I'm living in Singapore, and every day is a battle to cope with unfamiliar customs. This is a big sprawling tropical city of a few million people, but most of what I see is this room. I'm here to study Mandarin, five hours a day as part of my degree from Harvard. An error made by a school administrator when I arrive, lists my name as "Mrs. Mandarin." Oh, the irony. Mandarin is the hardest thing I have ever learned.
I started studying the language back at Harvard, because it was listed as one of the most difficult courses in the curriculum. I don't speak a word of Chinese when I start, and I am shocked to realize there's no alphabet. Every character is a different word and they're all so intricate. It's as if someone asked you to draw the Cadillac hood ornament from memory, and they say that means "thunder." And if you get a stroke wrong, it suddenly means "chickpea" or something. And it's a tonal language. The cadence you use with your voice on each syllable completely changes the meaning. 
Like everything I've done since leaving home, my decision to pursue this as my major is extreme. I start at Harvard when I'm 17, work like a maniac, get straight As, and am on the verge of nervous breakdown. I often sit at a desk in the Lamont Library, running my hands over the graffiti carved into the wood by generations of Harvard students, lamenting their anxiety, alienation, and despair. I get it, I say to them silently. I may be on the Everest of education, but there are still miles to climb. That desire to prove I'm smart, to prove I'm capable, never leaves me. It's no coincidence that Mandarin isn't one of the 16 languages my father speaks. I am trying desperately to both escape him and impress him. 
In Singapore, I look around at the eleven other students in the classroom. Our only shared language is Chinese. There are a few Russian students there with their Communist minder — because that was still a thing in the 1980s — who sits at the front of the room watching them like a hawk. Today, the teacher paces in front of the class, talking about economics, in Mandarin. She asks all of us to pronounce a phrase that means, "League of oil producing nations." The problem is, we can't say it fast enough. 
The teacher starts to yell at us. "How hard can it be?" she screams, clearly pushed beyond the limits of tolerance. Her face is flushed red and veins swell in her neck. The yelling gets so intense that one of the Japanese students literally faints and slides to the floor. The students around her pull her upright, whispering that she has to pull herself together. 
The woman tries to tell the teacher that she's sorry and that she's particularly upset because her dog is sick and she had to take it to the vet earlier. But she gets her tones wrong, and accidentally says that her dog has launched a military invasion of another country. By now, the whole class is trying to help her. "Second tone, second tone," we whisper, only confusing her more.
Trying to keep up this intensity for hours, I've started getting something I call "brain blisters." I study so hard, shuffling endlessly through my 5000 flashcards, that my brain physically hurts. I'm constantly getting sick. I'm fighting harder than I've ever fought to learn something, but it's not enough. "I'm so stupid, I think. I'm such a stupid idiot."
At the same time, I vaguely sense something else. It's a spiderweb-thin network of kindness and support that we students feel in this little barred room. I gradually stop trying to be the best, because that feels like a betrayal of the trust that's growing between us. Without realizing it, I begin to feel what it's like to be accepted without having to come in first.
I'm 24 years old, sitting at a wooden dining table in the living room of a beautiful house, looking out the window at a wide swath of the Tokyo skyline. Across the table, sits my Japanese tutor, Nagai Sensei. She's explaining to me, in English, that the appropriate way for a woman to speak Japanese is to sit up very straight and speak in a soft, feminine whisper. She demonstrates, and I see what she means. She's extremely prim and proper.
But I'm only half listening. The rest of my attention is on my 15-month-old daughter, who sits in her little onesie, watching television in the next room. I want to make sure she stays put and doesn't touch any of the antiques around the elegant home where we're house-sitting.
I'm spending this summer in Japan, while my husband works at a Tokyo-based consulting firm. The house belongs to a Finnish diplomat, and it's filled with expensive carpets and works of art. I'm intimidated by its opulence and order — the opposite of the environment where I grew up. 
When the lesson is over, Nagai Sensei reminds me to practice my memorization and leaves with a bow.
I close the door and turn to contemplate my daughter. For the first time, I notice the expression on her face as she watches a Japanese children's show, and sings along with the songs. She's intensely focused, as if her eyes and ears are drinking information and coding it. She's incredibly present, utterly absorbed. 
My skin prickles and I think, "I am watching the consciousness of the universe learning through this one small organism."
An ad comes on for a seasoning called Ajinomoto and I hear my daughter say "Aji-No-Moto." She doesn't get it exactly right, but I see satisfaction on her little face. She mouths the words, says them over and over again, sometimes getting them wrong and not caring. She's completely un-self-conscious completely free. 
To my amazement, I feel tears in my eyes. A wave of yearning rises in my chest and fills my whole body.
My daughter isn't thinking about IQ scores, or grades, or the rigidness of the education system in which I'm constantly competing. She isn't learning by force. She's simply enthralled blissed out. Absorbing like a sponge. She's doing something I've never done in class, in competition, even studying alone. She's letting curiosity pull her mind forward.
Something inside me shifts, and I think, "Ohhhh, so this is how we are supposed to learn — by desire and joy and mistakes." No blame, no anxiety. Everything in me now wants to learn like my child. 
I want to inhabit the space my daughter is inhabiting: curious, open, fluid. Unconcerned with others' opinions, oblivious to criticism or blame. I'm so tired of trying to prove myself to the world. I ache for a gentleness I've actually never felt for myself — the tenderness I'm feeling for my daughter.
GUNATILLAKE: Hear how Martha wishes for the ability to just be curious and open, without the need to achieve, to succeed in a conventional sense. I'm curious how do you feel about the prospect? Is it something you yearn to do more of? What could having a curious mind do for you?
BECK: Later that week, I get a call from my Japanese language tutor. Her father has unexpectedly passed away, and a new tutor will be continuing my lessons. 
Habuto-san arrives at the house wearing a cool bowler hat, a vest and boots. From the start, I get the sense that she is a rule breaker. She also speaks no English.
I gesture for her to come in and sit at the dining table with me. I slide my tall stack of flashcards between us. Without looking at them, she slides the whole stack away. I don't bother to conceal my surprise. She says something in Japanese that I don't understand. She smiles, warmly. And I smile back. 
In all my years of learning languages, I have only ever memorized. There were always flashcards. From the time I was four, I knew I was on trial. 
But as I meet Habuto-san's eyes, the energy between us gives me permission to relax. She's wry and funny and eccentric. I can see that without understanding a thing she says. I have the feeling she's here not to help me memorize, but to help me communicate. Her presence feels so unexpectedly human. 
As we commence with our lesson, I begin making mistakes so outrageous that Habuto-san loses her reserve and laughs out loud. At one point, believing I know how to say "I've been studying hard on my own," I actually say, "When I'm by myself, I belch constantly." 
There's nothing funnier than someone trying and failing to hold back a guffaw. When Habuto-san loses her battle and begins laughing helplessly, I laugh too. The shared hilarity is bonding. We're suddenly not a teacher and pupil, but friends sharing a joke.
In the following weeks, I let myself learn like a child, and Habuto-san meets me in this humble, happy place. She often bursts out laughing at my baby talk, but never harshly. Her compassion is so unfamiliar, it feels revelatory. It changes everything. 
We sit side-by-side at that shiny, wooden dining table, my toes against the soft carpet, her eyes bright and kind and patient. The smell of rice cooking wafts in from the house next door. I don't feel as if I'm learning Japanese; instead, in my profoundly imperfect, ridiculous way, I'm just speaking it.
Habuto-san becomes the first friend I ever make in a language that is not my own. We don't speak mind to mind, we speak heart to heart.
I fall in love with everything Japanese: not just the language, but the culture, the philosophy, the art. I'm learning differently and I'm thinking differently. 
Without being able to put words to it in any language, I realize that the link between myself and Habuto-san is actually the link that connects us all. I'm only able to feel it, to rely on it, when I let go of my rigid pursuit of perfection. And I know that this ineffable thing, this communion of consciousness, will be at the center of my life from now on. 
A few months later, I'm back at Harvard, plowing on through my doctorate in sociology. I've put Asian languages aside, and I'm sitting at a seminar table with several classmates in William James Hall, the social-science hub of the campus. Everyone is looking at our brilliant professor, with the three wiry hairs that grow directly out of the bridge of his nose. I can't claim to know what the others are thinking, but I'd bet good money that every brain in that room is silently repeating, "Please don't hurt me."
I can feel the anxiety like humidity in the room. I watch my classmates competing to offer the most cogent observations, to outscore one another. It's the old familiar scenario I've been in since I can remember, but something's different now — something inside me. I find myself looking at my classmates, my teacher, the visiting professors, and thinking, "Damn! Friend, you look miserable!" 
I also feel enormous compassion for them — the kind of compassion Habuto-san offered me. Without realizing it, I've absorbed aspects of Asian philosophy. There, having an open heart and mind —"beginner's mind," or "don't-know mind," it's sometimes called — is often valued over a mind stuffed with facts and pretensions. 
When I first read the Tao Te Ching, an ancient work of Chinese philosophy, one verse jumps off the page: "We shape clay into a pot, but it is the empty space inside that makes it useful. We hammer wood into a house, but it is the space inside where we live. We work with being, but emptiness is what we use." 
At Harvard, I watch myself and those around me trying to fill ourselves up, to gain all the qualities and achievements that we think will bring us happiness: material wealth, degrees from esteemed universities, numbers on a screen that tell us we're popular and that we matter. But I'm beginning to accept the idea that we're born perfect, even divine, like the Asian symbol of "the jewel at the heart of the lotus." We don't need "more" to wake up to our true nature. We just have to peel back the layers of what we've accumulated in the buzzing confusion of our lives.
I've spent so much of my time on earth trying to compete, to achieve, to prove myself to people who would never be satisfied — myself most of all. But the journey that leads toward wholeness, toward happiness, takes me the opposite direction. It takes me back to the open mind and heart of a baby.
It sheds shame, expectations, and criticism as it goes. It holds the intellect, but without much fanfare, knowing that the essence of our being is inextricably linked to the whole intelligence of nature, of the infinite. 
All I want to focus on anymore is opening myself to that vibrant emptiness, the no-thing-ness that connects everyone and everything. I fall back into it, into the compassion of my classmates in Singapore, my teacher, Habuto-San, in Japan. And as it rises to meet me, the kindness of that mystery feels like the highest learning of all.
Rohan's closing meditation
GUNATILLAKE: Thank you Martha.
Martha really went on a journey, didn't she? And as a mindfulness guy, I really appreciated it when she pointed to beginner's mind, as an important way of seeing the world and an important way of being.
Beginner's mind isn't just an idea though; it's also a practice, a family of practices really. So how about I guide you through a little example of it for our last few minutes together.
So whatever position our body is in, let it be comfortable.
The heart of the don't know mind practice is brightness and alertness. Curiosity. I don't know what is happening. I don't have a pre-set idea of what is happening or what things are like. And therefore, I won't rely on my cookie cutter mental model of how things are. Instead I will explore my experience and see it for how it actually is, not how I think it is. That is beginner's mind.
Stating that 'I don't know,' therefore, isn't an admission of a failure. It's the start of a discovery. So let's get a taste for that discovery now.
With eyes closed or open, let the breath be steady and soft. Nothing special.
We all have stories about what our bodies are like. For many of us, the relationship with our body can be complicated.
Without dismissing those stories, let's put them to one side for now, and sense into the body actually as it is right now. No stories, just reality.
What sensations are here? What is standing out?
Really inviting alertness and curiosity into the mind.
Interested in what is the play of sensations like? Does the body feel static, fixed or is it fluid, dynamic?
And what is the tone of what is here? Curious about whether things feel pleasant, unpleasant or maybe neither of those things?
Delighted not to know how things are.
Excited to find out by discovering it in real time.
We can do the same now with how our minds are.
Our relationship with our minds are just as complicated as with our bodies. 
'I'm like this,' 'my mind is like that' We have so many stories about how we are, when it comes to our thoughts, moods and our emotions.
Again, let's allow those stories to just be stories. Putting them to one side. They're not things we know.
And just as before, let's be curious, let's be alert. 
Remember, the key thing is not to think we already know what our mind is like. But instead to know it directly as it is, in this moment. 
Don't know mind.
Beginner's mind.
Naivete as a super power.
And as we move into the week ahead, what might it be like to go through the world with more of this don't know mind?
When talking to people, dropping the ideas of how they should be or how you think they are, and instead, just being with them. Being with them as they are in that moment.
This is the practice. It's a beautiful thing.
So thank you again Martha.
And thank you, you're a beautiful thing too.
We'd love to hear your personal reflections from Martha's episode. How did you relate to her story? You can find us on all your social media platforms through our handle @MeditativeStory. Or you can email us at: [email protected].
About the Storyteller and Host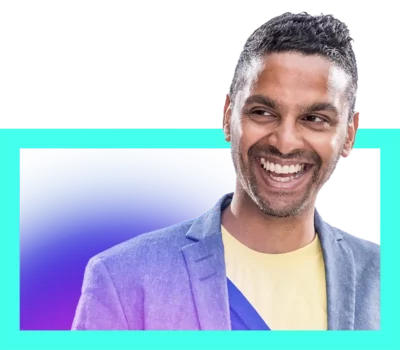 Rohan Gunatillake