Reducing anxiety 24 hours at a time
Bakari Sellers made history when he became the youngest African American elected official in the United States. But beneath the surface of his successful career, Bakari is consumed by anxiety about his own mortality. This week, Bakari shares how living life in 24-hour increments empowers him to contend with his greatest anxieties and get more out of every moment.
Transcript:
Reducing anxiety 24 hours at a time
BAKARI SELLERS: I hear applause as I walk out onto the stage. I recognize everyone in the audience either from Sundays in church or just seeing them around town. I'm a product of the proverb, "It takes a village to raise a child." And these people are my village. When the applause stops, there's this little small moment, where it's just silence. It's just my breath and the audience. And then, "It's game on."
ROHAN GUNATILLAKE: Bakari Sellers made history when, at just 22 years old, he became the youngest African American elected official in the United States. His driving mindset of aiming to win every day enables him to serve his community. But beneath the surface, Bakari is consumed by anxiety about his own mortality that stems from a close encounter with death at a young age. In this week's Meditative Story, Bakari shares how living life in 24-hour increments empowers us to contend with our greatest anxieties and get more out of every moment.
In this series, we combine immersive first-person stories, breathtaking music, and mindfulness prompts so that we may see our lives reflected back to us in other people's stories. And that can lead to improvements in our own inner lives.
From WaitWhat, this is Meditative Story. I'm Rohan, and I'll be your guide.
The body relaxed. The body breathing. Your senses open. Your mind open. Meeting the world.
SELLERS: The afternoon air is thick with humidity. It's hot. It's sticky. It's sweaty. The southern live oaks cast shadows on the ground. Kids run everywhere — laughing and calling out to each other. The hum of cicadas makes everything feel alive. This is July in Denmark, South Carolina.
I'm 10 years old. I lean against the outside wall of the recreation center — it's a small cinderblock building where we have summer camp. I'm not in my good clothes, of course not. I'm not dressed for school. Because I know I'll have dirt stains by the time that I go home — especially on my white socks. It's always in that little portion of the foot that's between the Achilles tendon and the heel bone; that spot will be insanely dirty by the end of the day.
It's chaotic — with 50 kids — aged 6 to 13. But it's simple, too. Because there's not really a whole lot for us to do. Some kids play tackle football, of course not with any pads. Others play basketball. We don't have a real court, just a patch of raw dirt where we've worn down the grass. I watch the kids kick up dust as they play. The ball, as you can imagine, just shoots a high arc and bounces off the backboard, which is just a piece of plywood from the hardware store.
You see, Denmark, South Carolina is my home, but it's also the poor rural south. I like to call it 'God's country.' It's filled with amazing people.
Scattered along Highway 70, we have a Five and Dime store, the Dane Theater, a Chinese food restaurant. There's a record store, even owned by Mr. Robinson. And Booker's Hardware, named after the former mayor.
Sometimes, a couple friends and I will sneak down the street from camp to the icee lady. She sells us little water cups filled with icees for 10 cents. One dollar?! It can make you king for a day. She always asks, "Do you want red or blue?" It's not "cherry" or whatever. Y'all know, Black folk in particular, we don't really enunciate flavors. Our flavors are "red," "purple," and "green" — right? And my favorite flavor was purple.
Back at the rec center, someone yells "Let's jump ditches!" We all cheer with excitement. Because jumping ditches is one of our favorite games.
The kids at this camp, we don't have a lot of money, but we do have the outdoors. When I say we jump ditches, we literally jump ditches.
The one closest to the building is the biggest. To me, at 10-years-old, that ditch looks huge, like 37 feet. At the bottom, I see a little bit of murky water, some tadpoles, and some frogs. Now, I don't know where the water comes from or where it runs to, but I do know it's water I don't want to be in. If I fall in, I have to walk a mile home and explain how I got so dirty and so muddy.
"Come on, Bakari!" one of the other boys calls out. I clench my fists, and get a running start. One, two, three strides. As I plant my last foot, I feel the slipperiness of the damp soil, and then I push off. For a moment, I'm suspended in the air. With a thud, thank God, I land on the other side. I make it. My friends cheer. I feel at that moment invincible. Like I'm made out of Teflon.
All day, we run and jump, and we run and jump. There's no concern for safety. No care in the world. There's no anxiety. This summer, the biggest worry in my life is whether or not I'll fall in that ditch.
My head rests on the pillow as I stare up from the bottom bunk. The wooden slats of the bunk above me are covered with Ninja Turtles scratch and sniff stickers. The walls of my room are painted blue, my favorite color. They have Dallas Cowboys wallpaper trim near the ceiling. I'm used to falling asleep here without much trouble, but now, my heart is racing. I'm 11 years old and I'm panicking.
Lying here in the dim light, I think, "Is this what Al felt like before he died?"
My mind goes back to a few weeks ago, to the funeral. I'm in the auditorium of Orangeburg-Wilkinson High School, and there's a lot of people here. Most of the football team, kids who played football with the boy who died. His name was Al McLennan. He was only a year ahead of me.
And his death was sudden. It was a heart attack during football practice. He was 13 years old. And he was so kind, and he was big and strong. And he was just a whole athlete. He wasn't my best friend, but this was my first time experiencing the death of someone so close to my age. It took away my sense of invincibility.
At the funeral, I follow what everyone else does. I stand in line to pay my respects. The only light in the dark auditorium comes from the stage. We shuffle down a long ramp toward the coffin. When I get to the front, I immediately regret it. The open casket — seeing Al lying there, it's a jolt. It's just too much for me. I don't fall to the ground, I don't start sobbing, but it's a lot to take in. It's a lot to comprehend.
For weeks, I replay this scene over and over. It's almost too easy for me to interchange myself with Al. He's a reflection of me. His death, it became a catalyst for my anxiety. I start having these thoughts that I'm going to die too. Nighttime is the absolute worst; it's when the panic really sets in.
I'll be in my bunk bed, and I'd feel a tightness in my chest. Am I having a heart attack too? Is that what's happening? I feel like I can't breathe and I'll never catch that breath again.
I'm so tired, but I don't know how to process any of this. I'm supposed to go to basketball camp next week, but my parents don't think I should go anymore. They see how hard it is for me to be alone, especially at night.
I pull the covers up to my chin. I'm scared because death feels like it can come at any time. Death comes before I've grown up, before I've achieved anything. It's so final, and I don't want to die a failure.
Anxiety has taken complete hold of me. I feel frozen and paralyzed. There's no greater feeling than when the sun comes up, because then, I can finally breathe again.
GUNATILLAKE: Let's breathe with Bakari here, too. The relationship with his mortality that Bakari is expressing here is really difficult. But there is another way, as put so famously by Mary Oliver in her poem "A Summer Day": "Doesn't everything die at last, and too soon? Tell me, what is it you plan to do with your one wild and precious life?" What does hearing those words make you feel?
SELLERS: Ten years later, I stand backstage in a small auditorium waiting to make my first real political speech. It's in my campaign when I'm running for the South Carolina State House of Representatives. I'm only 21, but I'm ambitious. I'm ready to make a difference. Looking at me now, you'd probably think I'd left my anxiety behind.
But I haven't. You see, the fear of mortality that first overcame me a decade ago is still there. It never went away. Every night and every quiet moment is filled with thoughts of my own death. If I have a pain in my stomach, I literally think that my appendix is exploding. I imagine a heart attack when it's really just acid reflux. I'm not a hypochondriac. That's not it at all. But I live with this irrational fear that my life can be over at any moment, at any time.
My way of coping, though, is to become laser focused on success. In high school, I have to be the best basketball player in every practice. In college, I have to get the best score on the test and the LSAT. I treat speeches like they're an NBA finals game. I use every single opportunity to make sure I win at least one person in the room. It's part of what pushes me to go after this House seat. I want to serve my community while I still have the chance.
You see, my mother was part of the desegregating class of Hamilton High School in Memphis, TN. And my dad has his own rich history in the civil rights movement. Growing up, they tell me I can be anything I want to be as long as I'm a change agent. And so I take that to heart, but I also realize that many men and women like my parents get cut down before they can see those changes realized.
In third grade, my father takes me to a memorial for the anniversary of the Orangeburg Massacre — an event in which three young Black men were killed for protesting the All Star Bowling Alley. It was what the history books called the last vestige of discrimination in Jim Crow's final hiding place. They were men who looked like me: Henry Smith, Samuel Hammond, and Delano Middleton. They looked like Al. My father was there and he was shot too, but luckily he survived. It's in this moment that the word "service" takes on a completely different type of meaning. My fear of death becomes a fear that I won't make a difference, that I won't make a change, and that I'll die a failure.
You see, my speech today is at Voorhees College, a small Historically Black College in my hometown. It's about a mile from my house — I think it's 1.4 miles to be exact — and right across the street from my church, St. Philip's Episcopal. From backstage, I peer out behind the curtain and the lighting is poor. There are no windows in this auditorium. There are seats for maybe 75 or 80 people. I adjust my tie and I smooth the front of my three-button suit my father bought me on sale from Joseph A. Banks.
My name is called. I hear applause as I walk onto the stage. I recognize everyone in the audience either from Sundays in church or just seeing them around town. I'm a product of the proverb, "It takes a village to raise a child." And these people are my village.
When the applause stops, there's this little small moment, where it's just silence. It's just my breath and the audience. And then, "It's game on." You see, weirdly, I don't have any performance anxiety. I don't have any type of problem speaking in front of people. I make eye contact with everyone in the room. And my words, they just begin to flow, and that audience, it's just mine.
For 25 minutes, when I'm onstage, I can be my very best. I can own that moment. I can own that period of time.
When I reach the end of my speech, and I say "Thank you, and God bless you," and the audience, they spring into a loud applause. I feel their gratitude, I feel their pride. It's so rewarding. I feel so…I guess the word is present. I feel so in the moment.
But it doesn't last long. It's fleeting. Because, when the applause ends, you see the world, it speeds up again. It's back on its axis. And my anxiety and my fear of death and failure, they return. Death and failure are both, they're just final. They're the end of growth. That's why I'm focused on always growing. I don't want to think that I've changed, in the past tense. But rather that I'm changing. I try to win the day, I try to win the moment. I try to win every day. I'm pragmatic about what I can achieve and what I can't. I sprint instead of a marathon. Or rather, it's a marathon of sprints.
But see, this helps me contend with my anxiety. Because when I'm busy, I don't have to worry about my thoughts being left alone without adult supervision. But it's exhausting. I tell you it's exhausting to maximize my time this way. To live my life in these 24-hour increments. But it also sets me apart. Because most people live for tomorrow or they live for five years from now. I just don't feel like I have that luxury.
I hold my four month old daughter Sadie in my arms. She feels so light, she's swaddled in her blanket. Her little hand reaches up towards my face. Her arm is so thin. She's frail. She's been gravely sick. Yellow eyes and jaundiced skin. Her belly is so big and swollen. She's been on a feeding tube.
I sit on the edge of my bed in my room, but I feel like I'm in this bubble. I'm not aware of anything around me. The space has become really small and it's just me and my baby girl.
My wife is in the other room, packing the baby bag. She gave birth to our twins four months ago. It was a traumatic delivery, but thankfully my wife and my son are now healthy. Sadie, however, needs a liver transplant. She's been on the waiting list for 93 days.
I'm in a continuous cycle of worry, seeing her symptoms. I learn all these medical terms. My anxiety rages. If I see that my eye is red, I think, "Am I getting jaundice? Is my liver failing like her liver is failing? Is it hereditary?" It's not quite a panic attack, but the fear of death is overwhelming. Today, we're taking Sadie back to the hospital for another check-up.
As a father, I always thought my only job is to protect my children. Looking down at Sadie's little face, I feel like I've failed. "I'm so sorry," I tell her. "I'm just sorry I let this happen to you." I'm overcome with emotion and I start to cry.
My anxiety, I realize, is really selfish, because it makes me worry about my own death, about my own failures. But with the birth of my twins, and in particular Sadie just fighting for her life, everything is reprioritized. For the first time, I truly grasp what it means to be selfless — to put somebody else's mortality ahead of my own. I'm not fearing my own death anymore, because I'm so worried about her living. Her little hand, it grabs my finger. And I just don't ever want to let it go.
Normally when I feel anxious — and I'm on the campaign trail or in the courtroom — I focus on what I can do in the moment, what action I can take right now. I focus on what I can achieve. But what's happening to Sadie is so beyond my control. I feel like there's something I should be able to do, but there really isn't. There's nothing I can do to fix this. I realize though, that I have to make the most of this day, of this 24-hour increment, and all I can do is be here with her. I have to try and savor my time with her — to make the most of this moment by being present.
GUNATILLAKE: Making the most out of the 24 hour increments in our life doesn't always have to lead to a drive to achieve. It can also be helpful in quieter moments, and encourage us to be fully present. So how about we, in this moment, really savor being here. Listening. Sensing. Acknowledging a different productivity, the productivity of being here — completely being here.
SELLERS: Sadie and Stokely like to throw the pillows from the sofa to the floor. And then they just run around the sofa and say, "Look at me Daddy!" Today they are rambunctious. Sadie and Stokely are running and jumping around the living room like they always do. They're active, and disheveled, they're breathing hard. It makes me smile like nothing else. They're both healthy four year olds, without a care in the world.
It's close to bedtime. I need to calm them down. I pick up Stokely. He shrieks with laughter as I scoop him up in my arms. I place him up on the stairs, just so that I can see him eye to eye. I lean in gently so that our foreheads touch. In a very soft voice, I tell my son, I say, "I love you, Stokely. And you know what else?"
And his little voice, it just whispers back, "What?"
I say, "Stokely, you're my best friend." We have this conversation often. I think it's important for Black boys in particular, because it can be decently lonely. There ain't a whole lot of love out there. But Stokely knows that daddy will always be his best friend.
Now it's Sadie's turn. I lean in and press my forehead against hers. And I say, "Sadie, I want you to say it with me, you are smart," I tell her, as quietly as I can. And she whispers back, "I'm smart." And I say, "You're beautiful and you're strong." She smiles and says, "I'm beautiful and strong." It's like a call and response. And then I say, "What are you, Sadie?"
And she'll say: "I'm smart, I'm beautiful, and I'm strong."
These moments build confidence in my children. I want to give them what they need to go out into a world that may not give them as much love as they get at home. This is a very real understanding that I'm raising Black children. I don't want them to have the same fears and anxieties I had as a kid.
Later that night, after the twins have gone to sleep, I lay in bed, under layers of comforters. We have a bunch of big, fashionable throw pillows. You can thank Ellen, my wife, for that. All of those pillows end up on the floor.
The room is dark. I hear my wife's quiet steps on the carpet, and her soft voice on the phone as she talks to her family. I'm exhausted after a long day but I feel restless, always feel restless until she comes to bed. I still have a hard time being alone. My anxiety usually rages at night. When my wife is by my side, it's replaced by a comfort and relief. After fifteen years together, it's just her sweet touch…it calms my heartbeat. Even the feel of her feet brushing up against mine is like a warm blanket. There's a sweetness, a sense of protection.
My fears of death haven't gone away. I pray they will, but I doubt they ever will. Because of the type of work I do, the civil rights work I do, I come in contact with death and mortality all the time. Earlier this year, my best friend Brian died of an embolism. I just spoke with him the day before too. I'm constantly reminded, even through Brian's death, that life is fragile and we never know what's going to happen next.
But my awareness of mortality also pushes me to take urgent and intentional action. It makes me emote more, and it makes me hug tighter. I still want to evolve and make change. But now I put my family first. I serve others in new ways.
People who go through life without recognizing their mortality, they don't get a chance to taste the sweetness of the berry like I do. Living my life in 24-hour increments gives me the power to contend with my anxiety and get more out of every moment.
Ellen's touch, her loving touch, when we fall asleep side by side, absolves the fear of death. Even if it's just for a moment. I like to count those moments, get as many of 'em as I can.
The day is done. But tomorrow when the sun comes up, everything will start anew.
Rohan's closing meditation
GUNATILLAKE: Thank you Bakari.
Reflection on our mortality has long been part of the mindfulness meditation tradition. The intention of these practices, known collectively as mindfulness of death, is close to the theme shared here by Bakari. Remembering our mortality, it spurs us to aliveness, to energy, to determination to live the life we do have — well. That's the idea at least, but it can be a bit heavy, so I'm not going to guide you through one of those meditations today. Instead, let's do something nearby to that, but a bit more chill.
And staying traditional for now, let's find the sensations of the breath in the body. As you may know, most people can sense the breath — depending on how they're feeling — in the chest, in the belly, or in and around the nostrils. And a useful thing to do if you're not sure, is always putting your hand on your belly. Doing that means you can feel the rising and the falling of the breath here really clearly. Hey, I'll do that myself actually.
Ok.
And what I'd like to invite you to do is focus on just one part of the breath's flow, making just this one part the most important thing in the universe right now. And that part is the end of the outbreath.
Letting everything else go and zoning in, settling in, brightening our attention onto the end of the outbreath.
Watching it with relaxation, but real alertness. Watching the end of the breath. Interested in what the end is like.
Seeing what can be learnt here when you pay close, really close attention.
Interested now in what comes with the end of the breath.
There is renewal here too, birth, energy.
So for these last few moments together, observing the breath, being with it, and exploring what arises with the end of the outbreath.
Exploring cause and effect. Exploring what has to happen when one thing ends.
Thank you, Bakari.
And thank you. Go well.
About the Storyteller and Host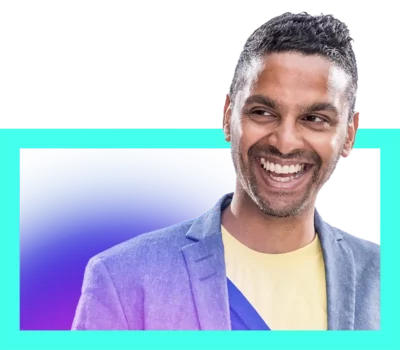 Rohan Gunatillake