Seeing the potential in others and ourselves
Soledad O'Brien
Journalist
Soledad O'Brien, Journalist
As a former broadcast journalist and anchor for major networks like NBC and CNN, Soledad O'Brien understands the value of telling people's stories in the correct light. In this week's episode, she shares how experiences from her own life helped her recognize the importance of identifying people's strengths and how reflecting those strengths back to them allows people to achieve their full potential.
Transcript:
Seeing the potential in others and ourselves
SOLEDAD O'BRIEN: In the school gym, I see an older lady standing in line for soap. She's maybe 70. Everyone in the line is frustrated because they only give a little chip of soap or a squirt of shampoo. But she stands out because she looks so nice. Like she's headed to church. Her hair is done. She's got a purse dangling from her arm. Nice slacks. She looks just like my mom.
ROHAN GUNATILLAKE: How we tell other people's stories can matter just as much as how we tell our own. Journalist Soledad O'Brien has decades of experience as a storyteller, reporting on the successes and hardships of communities all over the world. Through this experience, and through her time growing up in a multiracial family on Long Island, she learns the value in recognizing people's strengths and the potential we unlock by reflecting them back.
In this series, we combine immersive first-person stories, breathtaking music, and mindfulness prompts so that we may see our lives reflected back to us in other people's stories. And that can lead to improvements in our own inner lives.
From WaitWhat, this is Meditative Story. I'm Rohan, and I'll be your guide.
The body relaxed. The body breathing. Your senses open, your mind open, meeting the world.
O'BRIEN: I sit on the long, narrow banana seat of my bike. My palms feel sweaty against the handlebars. I let out a long, nervous breath. I place my right foot on the pedal, but keep my left foot on the ground. I'm not quite ready to go yet. I'm 8 years old, and I'm trying to be brave.
I stare down the long gravel driveway toward our street. My family lives in Long Island, less than two hours outside of New York City. But it's rural out here. The houses are broken up by cornfields. It's not unusual for someone to have a pony in their backyard.
My neighbor across the street, Helena, holds onto the back of my bike. She's older, probably about 17. That makes her an authority figure. So when she says it's time to learn to ride a bike, I listen. "Come on, you've almost got it," Helena says. She's got straight dark hair and light freckles across her cheeks. She gives me a push and I roll down the driveway. But the rocks are deep. I lift my back foot. The bike wobbles and I stall out. I'm not going anywhere.
A gravel driveway is a terrible place to learn to ride. The gravel is sharp too. I definitely do not want to fall.
As I stand and slowly wheel the bike back up to the top of the driveway, I hear the front door of our house open. My dad comes out to watch the progress.
My Dad is the athlete in the family. He's built like a rugby player because that's what he was back in Australia, where he grew up. He is so strong, we sometimes hang off his arms and he lifts us off the ground like he's doing bicep curls. He's not super tall, maybe 5'8", but he's handsome. And he's white. My five siblings and I don't really look like him, or look like many other people in our small town. We're brown. Our mom is Afro-Cuban. My hair is in a short little afro that's kind of long in the back, almost like a mullet. Mostly because my Mom insists on cutting it herself.
My parents buy a house in this town, which is mostly white and pretty conservative, because of the good schools and the close proximity to my dad's job. It's the quintessential backdrop for two immigrants, who are looking for the American dream. But they know what people say. It's the mid 1970s. They're an interracial couple. Back when they used to live in Baltimore, their marriage wasn't even legally recognized at first. They suffer ignorant comments, they're refused service at restaurants, and they know that their mixed race children will likely have to deal with some of the same. But they tell us: "Put your head down and keep going."
I'm a decent athlete, but navigating a bike on gravel that's a challenge. I want to show my dad that I can ride a bike.
So, I center myself on the seat and put my feet back on the pedals. Helena gives me another push. I gain speed as I cycle one foot and then the other. The breeze feels cool against my face. I take about three pedal turns before I realize Helena's not there anymore. I'm riding on my own. I squeeze the brakes gently right before I reach the street. I plant my feet firmly back on the ground.
"I knew you would get it!" Dad says when I walk the bike back up to the house. His expression gets very serious. "You're the kind of person who doesn't give up." Dad doesn't say this to pump me up. He says it like he's just stating a fact — a simple truth.
Dad knows me. He knows my strengths. Sometimes, I forget them because I'm so focused on keeping my head down. And I like that he reminds me. Not only can I ride a bike, but I am the girl who doesn't give up.
I walk alone through the cement courtyard of my middle school. This campus, just like the high school in town, looks like a prison — low slung buildings, a couple of stories at the most. And gray — gray like a federal facility. I'm 14 years-old, on my way to English class.
Every day at school as a teenager is a little fraught, but today my steps feel lighter. I am wearing an outfit that I've put some thought into, because this is Long Island and we are about fashion. I don't have a lot of money to spend on clothes, but I've got some ideas from magazines like 17 and Cosmopolitan. So today, I'm wearing Keds that are white and most importantly clean, a red sweater, and a necklace that says Solie in script lettering. And a denim miniskirt. Mini skirts are very in. Mine goes just above the knee. It's nothing crazy, or my parents wouldn't let me leave the house. My hair is pulled back in a little ponytail like always. I think I look pretty cute today.
A teacher walks briskly in my direction on her way inside. She's not one of my teachers, so I don't know her well. But I smile politely as she approaches. I see her eyes give me the once-over. They linger on my skirt. She says the craziest thing: "You look kind of slutty."
She continues walking past me. She doesn't even break her stride.
Her words feel like a slap. They leave an imprint. Why would she say that to me? Why would an adult talk to a student like that? I usually try to play off ignorant comments I hear like, "Oh they didn't really mean to be offensive,'' but this is so inappropriate. It just seems so mean. And kind of deflating.
People in our town say weird things about me and my siblings often. Things that would never be said to our white neighbors — comments about our appearance, whether we look too Black or not Black enough, and what that means about our character. For the most part, I feel pretty comfortable in our community. But there's an ugliness under the surface that I won't learn to recognize for years. So when someone comes out with something rude like that, it's just confusing. It's like they want to undermine my confidence — make me feel less-than.
Later, when I get home, and my Mom gets home from work, I find her in the kitchen. She looks at me and she knows something's off. "What happened today, Solie?"
I tell her what the teacher said and she goes quiet. Very quiet. Which, if you know my mom, is very scary. Then she presses her lips together into a thin line. She's so mad. I'm like, "Oh no. oh no, Mom, I'm telling you this but please, please don't do anything with this information." But there's no talking my mom down when she's mad, especially when people are unfairly judging her kids.
Some negative comments she tells us just to ignore. But she can only keep her head down for so long. She tells us, "Don't believe what other people say about you. Don't let them define you. You decide how to do the best with what you've been given."
The next day, Mom marches back into school and tells off the teacher. She has no fear. And I'm not sure exactly what she says. She never tells me. But later, she does say: "That teacher won't be saying that to you again." Even though a part of me is so embarrassed, I could die a thousand deaths, deep down, I kind of love that she's such a fighter. And she's always willing to fight for me.
My parents aren't cheerleaders. They don't jump and clap their hands and tell us we are the most amazing kids. They point out our strengths in a very thoughtful, realistic way. When they do that, I get the sense that what they're saying is true. Sometimes, I don't even know I have these attributes until they point them out, until it's reflected back to me.
GUNATILLAKE: Who are the people that reflect your strengths back to you? And what are those strengths that they remind you of and amplify?
O'BRIEN: It's 92 degrees and suffocatingly humid in New Orleans. I'm in a school gym that's serving as a Red Cross shelter. And I'm grateful for the air conditioning. People sit on the ground, fanning themselves with whatever scraps of paper they can find. It's 2005.
Our CNN news team gets here just a few days after Hurricane Katrina, when it becomes clear, the levees built to protect New Orleans have broken down. The city is flooded. We're wearing boots and carrying packs with our clean water. I'm running on adrenaline.
Inside the gym, it's cots upon cots, a zillion cots. It's stuffy and it smells like cleaning supplies. Some people are slumped in wheelchairs. Others stand in long lines. There aren't enough supplies to go around. These people aren't really getting the help they need, but for now they're inside with a place to sleep. It's clean and mostly organized. The federal government hasn't coordinated an effective response, but the Red Cross is doing an okay job. That said, there is no cavalry coming. And I can't help but see how race is a lens through which everything is happening here. The people in the shelters are overwhelmingly Black and brown.
I've been reporting professionally for over twelve years, but I've never seen it so clearly before — how much things come down to race and class and access and who gets what when. Who gets rescued and who doesn't. Who matters and who doesn't. A lot of white people manage to get out of New Orleans — not everybody. But these folks in here and across town at the leaking, awful Superdome? They are stuck.
When the flooding starts, I'm still in New York. I don't like the tone of the reporting from my network and others. One of the anchors at CNN refers to the people fleeing New Orleans as refugees. My executive producer, Kim, who is also my best friend and my kids' godmother, is having none of that. Mostly because she's from New Orleans.
"These people aren't from another country," she says. "They're Americans." When she says it, I realize what she means. Not only is the word "refugee" inaccurate, it also carries a certain connotation for viewers. When some hear "refugee," they think of a person in a far away land. But the victims of Katrina are right here and they need our help. The newsroom has a huge debate about the word. It's me and Kim, who's also Black, against our mostly white colleagues. Everyone is running around the newsroom holding a massive Merriam-Webster dictionary and yelling. But the evening show is over and now, it's the morning show's turn to set the record straight. We make our case and we kill it. CNN is a huge platform. How we reflect the people of New Orleans' experience matters. They're not a statistic — they're Kim's family, people like her parents, who at this moment are still missing. Within minutes, how we refer to them will be how the entire world refers to them. How they will see them. It's our responsibility to get it right.
From that day on, no one at CNN calls Katrina victims refugees. They are evacuees. Because that's what they are.
In the school gym, I see an older lady standing in line for soap. She's maybe 70. Everyone in the line is frustrated because they only give a little chip of soap or a squirt of shampoo. But she stands out because she looks so nice. Like she's headed to church. Her hair is done. She's got a purse dangling from her arm. Nice slacks. She looks just like my mom.
I want this woman on the air. So much of the coverage of Katrina has been showing desperate people clinging to their roofs, almost referring to people like animals. It is dehumanizing. But this woman, she's a reminder that these people — who look like me, who look like my mom — just got caught up in a terrible disaster. They're good people, with good qualities, in a bad spot.
We get footage of her in the crowded gym. We don't need a wild narrative about this lady. It's enough just to see her standing tall, all on her own, acting normal in an extremely abnormal situation. Her strength speaks for itself. We're just putting it on camera — reflecting it back to her and our audience.
Years later, my friend Trabian Shorters tells me what I'm doing has a name. It's called "asset framing." And once you see asset framing, and its ugly stepsister "deficit framing," you realize it's everywhere. Once he unlocks my awareness, it is impossible to unsee. By framing people as a collection of assets, as opposed to a collection of their deficits, we can deeply influence the way we think about race and class. Personally, I'm tired of seeing people with brown skin defined by their challenges. I know that is not their only experience. That doesn't encompass everything that they are and sometimes isn't even their story.
I want to show people with their strength leading. Because when people have their strengths reflected back to them, they aren't being undercut or undermined. They're being reminded of what they're capable of and what's possible for them.
GUNATILLAKE: We don't always fully own our strengths, do we — either downplaying them or outright not recognizing them at all. Is there a quality that other people see in you that maybe you do not? Is it here now?
O'BRIEN: It feels good to stretch my legs, feel the warm air on my face. It's been 18 years since Katrina. My friend Tassion and I are out for a walk. She's been staying at my house in West Palm Beach, Florida, with me and my dogs.
Today, Tassion looks almost serene and much more relaxed than when she first arrived. She's tall, brown skinned, a lovely young woman. Her beautiful face almost glows in the sunlight. I barely have a chance to ask her how things are going when two ladies from across the street yell over, "Hey Tassion! Hi Tassion!" Then, a moment later, a car slows down. "Hi Tassion!" waves a woman I barely recognize. Tassion, of course, waves back. She seems to know everyone on my block.
I turn to Tassion and say, "What is going on?" She laughs. "Your neighbors are so nice. They want to introduce me to their kids." I literally cannot believe it. I have lived here for two years and I don't even know these people. But Tassion is here for a week and people are already trying to set her up with their sons.
I know I shouldn't be surprised. Tassion is a remarkable person.
When I first meet her, she's one of the first scholars that my foundation is helping put through college. She's a talented musician and a good student. She does a lot of work with Trombone Shorty, an artist from New Orleans.
She also comes from difficult circumstances. I eventually learn that her mom struggles with addiction and spent time on the streets. After we sponsor Tassion, she graduates, and gets a job as a camerawoman for a local TV station. It's a solid job, but I know the pay is terrible.
Then, a couple of years later, I start getting phone calls from her friends. Tassion has quit her job. Tassion is struggling. Everyone is worried about Tassion. So, I pick up the phone and I call her myself.
Tassion's voice sounds fragile on the other end of the line. She's very quiet and she's really down on herself. But she answers honestly. She hated the TV station job, but she's disheartened that she's having trouble finding her footing. To make things worse, her situation at home isn't great. Family members aren't particularly supportive. They say some awful things.
After letting Tassion vent, I tell her to pause and take a breath. I offer her a different perspective from what she's been hearing. "Yeah, it sucks," I say. "But let's not be sad about losing that job. I think that's a great job to lose. You're a college-educated woman. They do not pay you enough."
I tell her, "You're smart and amazing." I don't say it to pump her up or make her feel good. I state it like a fact, a simple truth. I don't want to define Tassion by her problems. I want to define her by her assets.
She just needs a plan and a strategy.
Back from our walk, I sit Tassion down and we make a list. What are you good at? What do you want to do? What's interesting to you?
I remind her of her strengths. I point out how people are drawn to her, how she brightens up everyone's day. She's the kind of person that everyone, including my neighbors, loves. She's a genuinely good and kind person. I don't lie. I'm not trying to give her false confidence. We don't have to be good at everything. We just have to be good at the things we're good at.
I don't have Tassion's struggles. I don't have a parent that's an addict and I'm not trying to minimize what she went through. But I don't want to reduce her to her deficits. I want her to look at life through the lens of her incredible abilities. Eventually, she starts to believe me. I tell her finding a job usually takes about six months. Five and half months later, she moves out of my house in West Palm and heads to New York with a new job — a great job in human resources. She is a people person, after all.
I'm not an optimist in the sense that I believe everything always works out for the best. Often in life, it just doesn't. But I am an optimist in the sense that I believe people can make it through hard times based on their own abilities.
The trouble is sometimes it can be hard for people to see those abilities, to see their strengths. People spend their whole lives getting over the trauma of something negative someone said. Others get their ambitions undercut before they're even given the chance to succeed.
That's where we can all help each other. When we reflect people's strengths back to them, honestly, when we objectively point out what makes them great, we give them grounding in their own narrative. We're not saying their struggles don't exist; we're just not giving them all our focus. We remind them, "This is what you bring to the table." That's what my parents did for me. It's what helped me become the person I am. To this day, when I'm having a hard time, I hear my dad's voice in my head: "You're the girl who doesn't give up."
Rohan's closing meditation
GUNATILLAKE: Thank you Soledad.
The thing that Soledad is pointing to in her story is so important. The nature of our brains is such that we can often not recognize our strengths, our assets, and instead focus on our deficits. The same can also be true in how we relate to others.
It's a part of my life that I try to work on on a daily basis, especially with my kids. For example, when I notice that my son is exhibiting a great behavior, like sharing well with his sister, or working on something tricky that requires concentration and fine motor skills, I tell him that I notice it. "Arne, I can see that you're doing your drawing in a really dedicated way." I tend not to heap a lot of praise on, but what's happening is that I'm reflecting back to him the positive thing that he's doing, and by telling him that I notice it, he knows I am giving him good attention, and that reinforces it even more.
And what that is and what Soledad and her amazing mother shows us it's a kind of everyday magic. The ability to amplify the wonderful in those around us.
So for our closing meditation together, we'll play with this some more, and do a little four part practice. With body comfortable, just as you are, is just right.
Let's start by again bringing to mind a person in your life who amplifies you. Someone who has named and celebrated the qualities you have, even though perhaps in the moment, we've not seen them ourselves.
Bring that person here. Let the memory of them brighten the mind. Let them energize the body. Inspiring a smile.
Switching things up now we're going to try to bring to mind someone we don't know very well, but that you've noticed has really wonderful qualities. It might be, for example, the manner of someone who sells you coffee, maybe their professional skills. It might be a work colleague, who has recently demonstrated how creative, dedicated, or fun they are. Bring someone to mind, and remember the strength that they have. The first step is noticing — noticing the strength. The next, is pointing it out to them. So if you haven't done that already, make the intention to do that, to point out their strengths to them, when next you can.
Here in the UK, and maybe especially here in Scotland, there is a cultural disposition to play down yourself. "Nah, I'm not like that. Couldn't tell you anything good about me." So while we may know our strengths, it can be strange, for some of us, to name them, to point at them, and even to embrace them so that they can be amplified.
So for this third part of our little meditation together, with the breath soft, the mind soft, let's drop this question in: "What is a strength I have that I can embrace and amplify?"
And as we drop that question in, notice what comes up. Notice any resistance or commentary or "nah, that one's not for me."
When we do these question or inquiry-based practices, we can get a lot of insight from the movements of the mind that come up.
But for all that, we do have gold in us. So let's name it. Dig deep with mind as quiet as it is. What is the quality, the strength, that you have, that you want to name in this moment. Name it. Embrace it.
I'm embracing my persistence. What are you choosing to embrace?
As we close out, let's make an intention for the week ahead. To notice, to name, and to point out to others the gifts, the strengths, the beautiful qualities that the people around you in your life have.
It may well change their life, and because it makes you resonate with that quality, it will definitely change yours.
So thank you again, Soledad.
And thank you.
We'd love to hear your personal reflections from Soledad's episode. How did you relate to her story? You can find us on all your social media platforms through our handle @MeditativeStory. Or, you can email us at: [email protected].
About the Storyteller and Host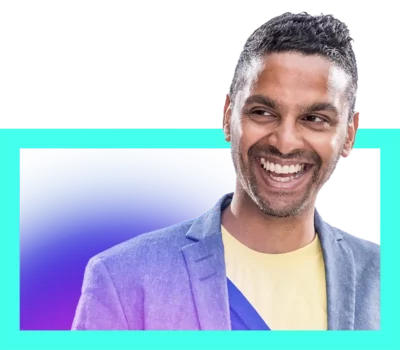 Rohan Gunatillake