Letting go of the need to do it all
Meredith Goldstein
Columnist
Meredith Goldstein, Columnist
Meredith Goldstein writes the wildly popular Love Letters column in the Boston Globe, but for much of her life, she's viewed romantic relationships as a trap. Meredith grows up seeing the limitations of her mom's insular life, and knows she wants more for herself. It's only when the pandemic forces her to slow down that she realizes the beauty in giving attention to each moment, rather than always thinking about the next five things. Years after Meredith's mom passes away, she emulates the way she lived her life, and finds that leaning into simple routines unlocks a surprising feeling of euphoria.
Transcript:
Letting go of the need to do it all
MEREDITH GOLDSTEIN: My sister and I love vampire movies: Fright Night, The Lost Boys. We rent them on VHS from Blockbuster over and over again. I have crushes on most of the characters. But more than that, I'm sort of jealous of them for getting to live forever. They have endless days of adventure and excitement. They don't miss out on anything. They get so much done. That's what I want.
ROHAN GUNATILLAKE: Meredith Goldstein writes the wildly popular Love Letters column in the Boston Globe. But for much of her life, she's viewed romantic relationships as a trap. Growing up, she sees how her mom's divorce leaves her stuck in a small and insular life. Meredith wants more for herself, so she packs every minute of her day with as much as she can to pursue success in the wider world. It's only when she's unexpectedly forced to slow down, that she realizes there's beauty in letting go of the need to do everything.
In this series, we combine immersive first-person stories, breathtaking music, and mindfulness prompts so that we may see our lives reflected back to us in other people's stories. And that can lead to improvements in our own inner lives.
From WaitWhat, this is Meditative Story. I'm Rohan, and I'll be your guide.
The body relaxed. The body breathing. Your senses open, your mind open, meeting the world.
GOLDSTEIN: I push my helmet up my forehead a bit so I can see. The warm sunlight shines down on my face. The smell of fresh cut grass and pollen hit my nose. My eyes start to water — allergies. Down at the other end of the field, I see my teammates scramble for the ball. Their lacrosse sticks clash against each other. My coach's whistle cuts through the shouting. "Let's run that drill again!" he yells.
I let my helmet fall back over my eyes. It hasn't fit all season, but I'm too embarrassed to tell anyone. I'm just the goalie anyway. It's funny how they always make the least athletic kid be the goalie.
I grind my toe into the grass with my cleat and mentally run through my to-do lists: Practice songs for the school musical audition. Write an article for the literary magazine. Prep for tomorrow's student government meeting. Finish my homework. God, I have so much to do.
I'm fifteen years old, and I want to succeed. To me, success is the quantity of things I can do, and places I can go in a day: school, lacrosse practice, even though I hate sports, musical rehearsal, the mall, my friend's house. I may be a little all over the place. But all that I am is tied to how much I can do. How much I can be a part of. When I look through the yearbook at the end of the year, I want to be in a lot of group photos.
I just wish I had more time — infinite time. Like a vampire. My sister and I love vampire movies: Fright Night, The Lost Boys. We rent them on VHS from Blockbuster over and over again. I have crushes on most of the characters. But more than that, I'm sort of jealous of them for getting to live forever. They have endless days of adventure and excitement. They don't miss out on anything. They get so much done. That's what I want.
I fill up every minute of my limited time, moving from one activity to the next — even the ones I'm bad at, like lacrosse. Sometimes it feels like too much. I'm behind on classwork because of everything I do outside of school. I'm always tired. I feel like I'm failing at everything. But it's how I make sure I never feel stuck in one place.
I rest my lacrosse stick on my shoulder. Just a few more minutes until practice is over. Then I have to move on to the next thing.
GUNATILLAKE: Like Meredith, so many of us encounter the desire to fill up every moment of our time. Whether it's the pressure to be productive, the fear of missing out or using our busyness as a symbol of importance. Take a moment to simply soften and notice what that desire might be for you.
GOLDSTEIN: Before I even open the door, I can hear the sound of the piano coming from inside my house. A repeated arpeggio, slowly walking up and down. I take a breath, softly open the door and tiptoe across the stone floor of the entryway. My backpack is overstuffed — my lacrosse stick under my arm. It slips and bangs on the floor. The arpeggio stops, like a record scratch.
I look sheepishly to my left, into the piano room. The walls are covered with art and little curios, all gifts from my mom's piano students. It's like a museum. My mom, dressed in her impeccable pantsuit, smiles up at me from the Steinway piano — her most important possession. Sitting next to her on the bench is her student, Becky. Oh jeez. If Becky's here for her lesson, that means it's already six o'clock. I wave awkwardly and scurry off toward the back room of the house.
In the den, I spread all my textbooks and notebooks across the carpet and dive into my homework. Mom teaches piano from 3:30 until after it gets dark. Her students provide an endless soundtrack throughout the house. Bach, Beethoven, Tchaikovsky.
Finally, my homework's done. I put down my pencil and stretch out my neck. I flop onto our worn brown couch. I still have a vampire movie that I rented from the video store over the weekend. I pop it into the VCR.
Finally, around 9 p.m., Mom is done for the day. Immediately, she changes out of her pantsuit. It's like a gigantic exhale. She moves into the kitchen and makes a little dinner for herself — very deliberately, with careful attention. Tonight, it's some chicken and vegetables. Like usual, she eats while standing at the kitchen counter. She's a single parent, raising two girls. It's been hard for her after the divorce. Now, her whole life is this same routine.
She wakes up, does her exercise bike, then it's time for errands: the grocery store, the bank. The same six places, over and over and over. All afternoon and evening, she's with her piano students, teaching lesson after lesson — completely absorbed in them.
Her only sustained engagement with other people is work-related, through her teaching. It's isolation, work, isolation. And actually, it never matters what time I come home, because she'll always be in the same spot, teaching at the piano bench. Her world is so small.
Through the doorway into the kitchen, I watch her finish off her makeshift dinner. She has this expression of, "Okay, I did that. I got through the whole day." And the next day, it'll all start again. I feel kind of sad. The routine of her life seems so limiting. I know she's capable of so much more. She went to Julliard. But she's stuck at home.
I never want to be trapped in a house like she is — staying in the same place, doing the same thing. I know life can be so much more than this. I love my mother. I admire so much about her. I just don't want to become her.
My fingers fly across my keyboard as I put the finishing touches on my latest article — a piece about the local town's sewer commission. I shuffle through the handwritten notes. What was that one city official's name? I brush aside the caps of Diet Coke bottles and empty inhalers that litter my desk. I don't have time to tidy it. I need to get this article off to my editor.
My landline rings. I pick up. "Providence Journal, this is Meredith."
I'm an intern here at the paper. I'm 21 — one of the youngest people here — and I still constantly push myself to be the best, to do everything. I feel the end date of my two-year internship looming like a ticking clock. Am I making the most of this job? Am I doing enough?
On the other end of the line, I hear a familiar, slightly panicked voice. It's my mom. I cup my hand over the mouth of the phone and glance at the coworkers who share my pod of desks. "Are you okay?" I whisper.
She's just started dating someone. Her first relationship in a while, and the first time she's slept with anyone in a long time. She's stressing out, overthinking it. At first I don't even understand the problem and then she says it: She's worried about STDs, even though she just had protected sex this one time. She already went to the doctor to get tested, but hasn't gotten her results yet.
I fiddle with the phone cord. The fact that I'm the person my mom calls about this … it's a little uncomfortable. But I'm used to her confiding in me. She has for years. She doesn't have many friends of her own to call. Those who are around I think she wouldn't want to embarrass herself in front of them. That means her life is still as isolating as it's always been.
I try to make my voice sound calming when I tell her the statistical unlikelihood that she contracted anything. But when she says she'll let me get back to work, she still seems on edge.
I hang up. I believe she'll be fine. I just don't understand why people put themselves through all of this — dating, relationships. This whole pursuit of something that's not a reliable source of joy. It's just wasted time.
For me, I try not to focus on dating. I know I don't want to get married. The marriages I grew up seeing don't seem to benefit women, especially when they don't work out. For my mom, it went like this: Get married young, have kids. Buy a house. Marriage breaks up. Now you're in a house that's meant for two people to afford. You don't want to move because of the kids' school. And you need the piano room to teach. Now you're trapped on this hamster wheel working to afford the house you bought when you were married. So, why go down that road at all?
I pick up the phone and dial my mom's doctor. When I get a hold of the nurse I ask, "Can you just send her the STD test results right away? She's not going to feel okay until she knows for sure." She agrees, and we hang up.
I turn back to my computer — back to work. Every day at this job is a calendar day that's ripped off until I have to find some amazing next thing. Sometimes I wish I could just freeze everybody, so the whole world would stop. Then I could write a whole book or something, complete some future accomplishment that'll finally feel satisfying. I'm never fully reaching the potential of what I can experience, or get good at.
All I can do is keep thinking about what's next, and fill every moment with as much as I can.
I pad into my kitchen, feeling the cool tile floor beneath my bare feet. Through the window, I hear the birds chirping, acting like it's a normal spring morning, though this spring has been anything but normal.
It's April 2020. A month ago, everything shut down. We're told to not come into work, not leave our homes, not do anything. All the busyness I've relied on my whole life comes to an abrupt stop. And I am, along with the rest of the world, living my worst fear, very much trapped in my home.
The news is scary. I try to stay updated, but there's only so much information to take in. Then I have all the other hours of the day to fill.
I open my refrigerator door. There it is, the coffee I made last night. I used to buy iced coffee from coffee shops, but they've all been closed for weeks.
I cradle the cold cup in my hands and head upstairs to start my at-home workday. I sit at the Target desk I bought in 2019 and open my laptop to edit a draft of the advice column I write for the Boston Globe. The morning passes with blocks of writing and Zoom meetings.
When it's lunchtime, I walk back downstairs to the kitchen again. It's time to make a little meal. Trapped at home, in my little world, I've become ceremonial about what I eat. Today, it's chicken and vegetables. I eat standing at the kitchen counter.
The afternoon is filled with more work. More writing, more zoom meetings. It's the same routine I did yesterday, and for weeks before that. Morning coffee, a little work, lunchtime, a walk, a little more work. The hours seem to drag on. The days feel like they'll never end.
When I was young, I envied those vampires I saw in my favorite movies because they had all the time in the world to do whatever they wanted. But now I'm starting to see what infinite time really looks like. It can't always be a new adventure, a new accomplishment. So much of life is just the same little tasks over and over and over again.
But as I lean back in my chair and close my laptop for the day, I'm surprised to find that I'm not actually miserable. I'm not worried about the things I'm missing out in the real world because the world has just stopped. I realize, I've never had a routine before, really. And it's nice.
I take a moment to gaze out the window of my home office. I've started noticing more things around me. I live in a neighborhood, surrounded by trees. Through the window, I see that my neighbor has built a play structure for his kids. How talented. There are squirrels everywhere and I name them. I call most of them Kevin.
The late afternoon sun gives the tree outside my window a warm glow.
My brain gets quiet in a way I have trouble putting words to. I still have anxieties about everything going on in the world. But I also feel so much more present. For the first time in my life, my expectations for myself are low, and reasonable. I didn't realize how much I've been racing. I begin to find solace in the smallness of my accomplishments.
That evening, I sit down to play at the keyboard I've borrowed from a friend. I sit in my cozy living room, where I've propped the instrument up on a chair. I place my fingers on the piano keys. I haven't played in years, but this is part of my new routine. I take a few hours of my day to just play. Tonight, I work out the melody to a song from the vampire film, Twilight. It's music my mom loved too.
She passed away 9 years ago. She had cancer. She was almost 65.
I think of her as I press my fingers down on the keys. I notice that I'm seated like her, my posture. I'm reminded of how present she was with each student who passed through our house. How much those afternoons must have meant to her. I feel connected to her across space and time.
I realize that the days that I've been having are "Mom days." I'm in or around the house, largely by myself, doing the same things over and over. Just like she did. And I don't feel trapped. I don't feel like I'm missing out on more.
As the melody reverberates throughout the house, relief washes over my body. I always felt responsible for my mom. For so long, I thought of her life as limited. But here I am, being limited, and I feel happy. Those years of small days, of routine, were not lost for her. They were probably pretty incredible years.
In keeping myself so busy all the time, I filled my life with stuff to do. And now, there's all this space. Space to notice things, and space for things to get in. Things like feelings of grief. And happiness too. None of these feelings are as scary as I thought they would've been.
Sitting at the piano, I start to feel euphoric. That's the only way I can describe it. I feel light, like I'm floating. It's the sort of lightness I felt after my mom passed. It's the lightness that comes from accepting a lack of control. I've let go of the need to do everything. For the first time in my life, I'm not striving. I'm kinder to myself. I just do one thing at a time and I don't feel guilty about it. I feel the benefit of slowing down and opening myself up.
GUNATILLAKE: There is a great release here — a letting go of having to do anything. It's beautifully described. How about we mirror Meredith? We too have nothing to do but be here. Slowing down, opening up. Let's give ourselves permission to do this throughout the day, throughout the week ahead, and in our lives.
GOLDSTEIN: I shove my hands deep in the pockets of my long coat. The chilly air nips against the tip of my nose. It's March 2021, that awkward time in Boston when it feels like it should not be winter, but it's still kind of winter.
The city has just started illuminating all of the bridges along the Emerald Necklace walkway with green lights. I can just make out the elegant stone arch of the bridge we came to see a few hundred yards away.
"Great!" I say. "We've seen it." I turn to look at Logan, signaling that I'm ready to walk back home.
Logan looks back at me, incredulous. "You've got to be kidding," he says.
Logan and I met online. Our first Zoom dates were a few months ago. Now we go on these walks. I like that he looks outdoorsy. Not fully outdoorsy, but a little outdoorsy.
"We're gonna go this far and then not go all the way to the bridge?" Logan says. "We're like, yards away." I laugh. "Well, yeah, but we've checked this box. Let's get moving."
Logan shakes his head. "No," he says. "We have to go the whole way." And so we do. We talk. We crack jokes. We spend more time. When we finally get up close to the bridge, it does look different. And I find myself looking at Logan and thinking, "I could maybe date this guy."
Before, I would have never taken a long walk to just focus on the person next to me. I'd always be worried about the hours I could be using to check another box.
But now, I have the training of my "Mom days" and every experience feels more equal. Writing my column is as important as the ritual of eating a meal, which is as important as finishing a book I'm reading, or just being here right now. An evening like this is no longer a waste of time. It's just something I'm enjoying. In slowing down, everything I do is the thing that I'm doing, as opposed to something I'm doing while thinking about the next five steps. It helps me to just be. And it helps me stay connected to my mom.
On the tenth anniversary of her death, my friend messages me. She asks if I want to get dinner, if I want to be kept busy. At first I think, "I should go get dinner." And then I realize, I don't have to do anything. So that night, I do nothing. I allow myself the pleasure of having the same kind of night I had the night before. That feels just right.
The world slowing down helped me learn an important lesson: When we embrace the smallness of everyday tasks, the rituals embedded in our routine, it doesn't mean that we're stuck, or trapped. Instead, it can be a way to unlock the euphoria of giving attention to all that we do. To the things right in front of us.
Finally, I know what my mom knew all along.
Rohan's closing meditation
GUNATILLAKE: Thank you Meredith.
There is a big echo for me in Meredith's story with part of my own meditation journey. There was a time when I was very goal-oriented, wanting to achieve this and that in my practice. At times, I was competing with others, but I was always competing with myself, looking to really level-up my mindfulness game, to be the best practitioner I could be. Looking back, I'm not going to hate on it, because there can be a real value to that style — that goal-oriented style of practice.
So, for our short closing meditation together inspired by Meredith's story, let's start with some goal-oriented practice to get a feel for what that's like.
And we'll do a classic one. Keeping the attention on the breath to build stability and focus.
So with your awareness relaxed, take a moment to find the breath.
Remembering if you need to our trusty hack of placing a hand on your belly and knowing the sensations of the breath there.
And the goal of this exercise is to place and then keep our attention fully on these sensations of the breath as long as possible. Three breaths is okay, five breaths is decent, ten is good.
Let's see how you get on. Again, the goal is to be aware of the sensations of the breath and to rest your attention there exclusively for ten breaths, with no distractions.
How did you get on?
Did you get to ten? Or did you get distracted? Or did you, like I used to do, get distracted but counted to ten anyway for some kind of reason?
Also, how do you feel about how you did?
Let's try again. Resting the attention wholly on the breath and seeing if you can get to ten breaths.
Now, goal-oriented meditation can be really helpful. It can bring energy and direction when things are going well, with a real sense of progress.
But, it can also bring tightness and tension, which we're not always aware of, and disappointment, which we do tend to be aware of — disappointment when we don't reach our goals as quickly as we'd like to.
At the height of my being into goal-oriented meditation and, to be honest, getting a bit stuck and frustrated, I read a talk by a meditation teacher who spoke about an entirely different paradigm of practice. Alongside goal-oriented practice, he talked about source-oriented practice. Still very much a formal form of meditation, he explained how instead of doing a technique to get somewhere, source-oriented meditation techniques were all about tuning into what is already here. Letting that which is here reveal itself.
So that is what we'll do to close out. And as we do, see if you can notice any of the freedom and flow that Meredith talked about when she made that switch from being goal-oriented to being source-oriented in her life.
And the way we'll do it this time is to just stop.
Stop any need to do any technique.
Not putting our awareness anywhere.
Not sending out kind thoughts.
No relaxation of the body even.
Instead just knowing what is happening.
The mind, bright and interested in what is here, not trying to chase what is not here.
And if you like, you can use the question: "what is here to be known right now?" as your tool to settle into source-oriented practice.
And whatever is revealed is what it is.
Thank you Meredith for your wisdom.
And thank you, for yours.
Go well.
We'd love to hear your personal reflections from Meredith's episode. How did you relate to her story? You can find us on all your social media platforms through our handle @MeditativeStory. Or, you can email us at: [email protected].
About the Storyteller and Host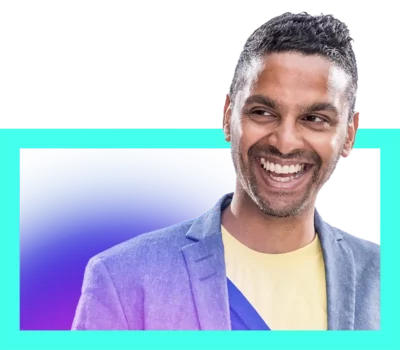 Rohan Gunatillake